2021 Carroll St. Pat's Fest: March 11-13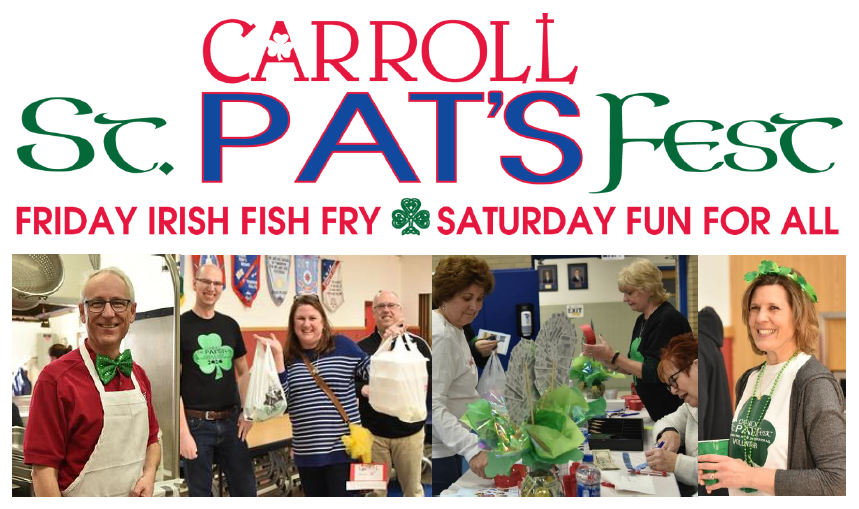 We invite you to support the 6th Annual Carroll St. Pat's Fest!
Organized by Carroll High School Parents, the Alumni Association, and Carrolleer Band Boosters, the weekend will consist of a 2-day carryout event with an online silent auction and livestream entertainment to kick off St. Patrick's Week.
View Livestream Entertainment Schedule Here.
Online Auction: Thursday-Saturday
Bidding for the online silent auction items begins Thursday, March 11 at 6:00 PM and ends Saturday, March 13 at midnight.
If you are the auction bid winner, your item can be picked up from the Carroll High School Main Office Lobby on Sunday, March 14th from 4:00-8:00 PM or Monday, March 15th from 4:00-8:00 PM. If you need to arrange a different pick-up time, please contact stpatsfest@carrollhs.org.
View Online Auction Items Here.
Carryout Event: Friday-Saturday
Due to an overwhelming response to our presale, day-of-event door sales may be limited. We strongly encourage pre-ordering to guarantee availability of your meal. We also encourage you to choose a later carryout time if you want a shorter wait in line.
Purchase Carryout Tickets Here.
---
What a year this has been! We never imagined that our last-minute changes in 2020 would need to repeat in 2021, changing our traditional Irish Fish Fry and Saturday Festival to a carryout two years in a row. The Patriots are rising to the challenge once again this year to bring about a new twist to our traditional Irish festivities. This year's carryout will give our community a chance to catch up with old friends, enjoy lively Irish entertainment, and peruse various Buy it Now booths, while safely standing in a social-distanced line to pick up their food.
Safety is our top priority. This event will follow the health guidelines set by the State of Ohio and the Archdiocese of Cincinnati, including the requirement to social distance and wear face masks on Carroll High School property.
---
If you need assistance picking up your meal, this is an option. Please follow the signs for 55 & Older / Handicapped Curbside Ordering and drive towards the U parking lot outside the main gym.
Those who order more than 5 meals also have the option for curbside pickup at the back loading dock. Enter the curbside pickup line at the flagpole in front of Carroll High School. Please designate this option on your presale registration form.
Traditional Irish Fish Fry Carryout: Fried Icelandic Cod, French Fries and Cole Slaw
Buy it Now Booths: Baskets, Raffles, Soft Pretzels, T-shirts, Bars & Bells, Leprechaun Land Loot Bag Pick-Up, and more
Online Silent Auction
Livestream Entertainment (5-8 pm): Jameson's Folly Irish Band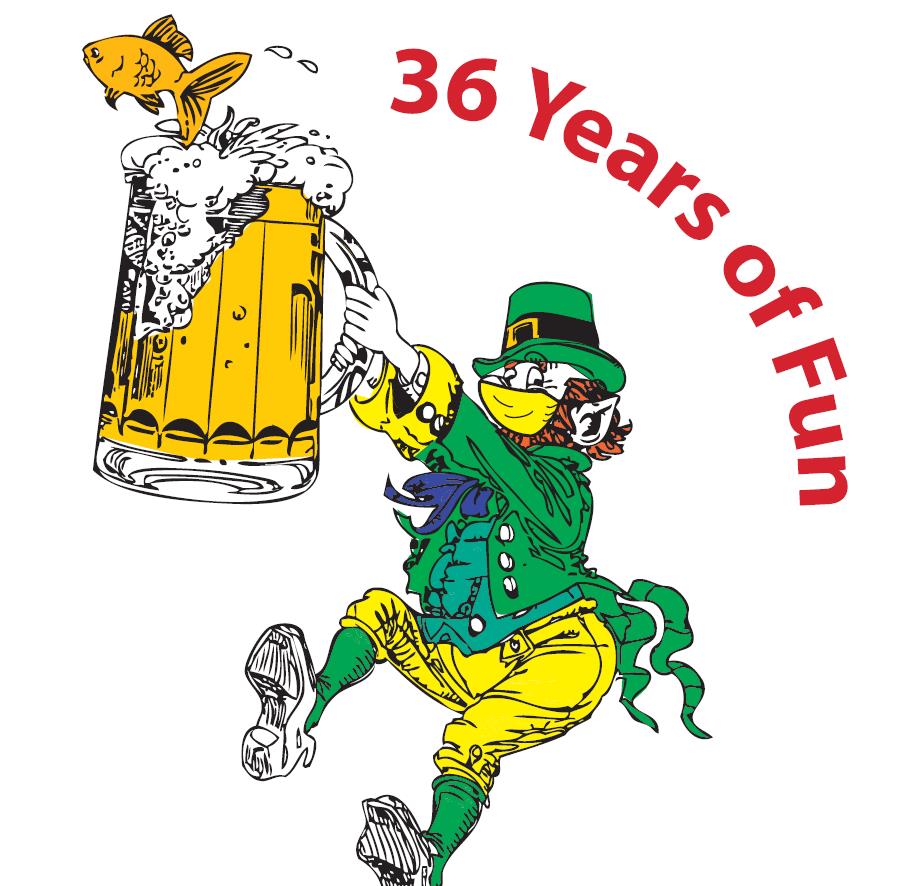 Irish Dinner Carryout: Corned Beef, Irish Stew and Soda Bread
Buy it Now Booths: Baskets, Raffles, Soft Pretzels, T-shirts, Bars & Bells, Leprechaun Land Loot Bag Pick-Up, and more
Online Silent Auction
Livestream Entertainment (12-8 pm): Irish Dancers and More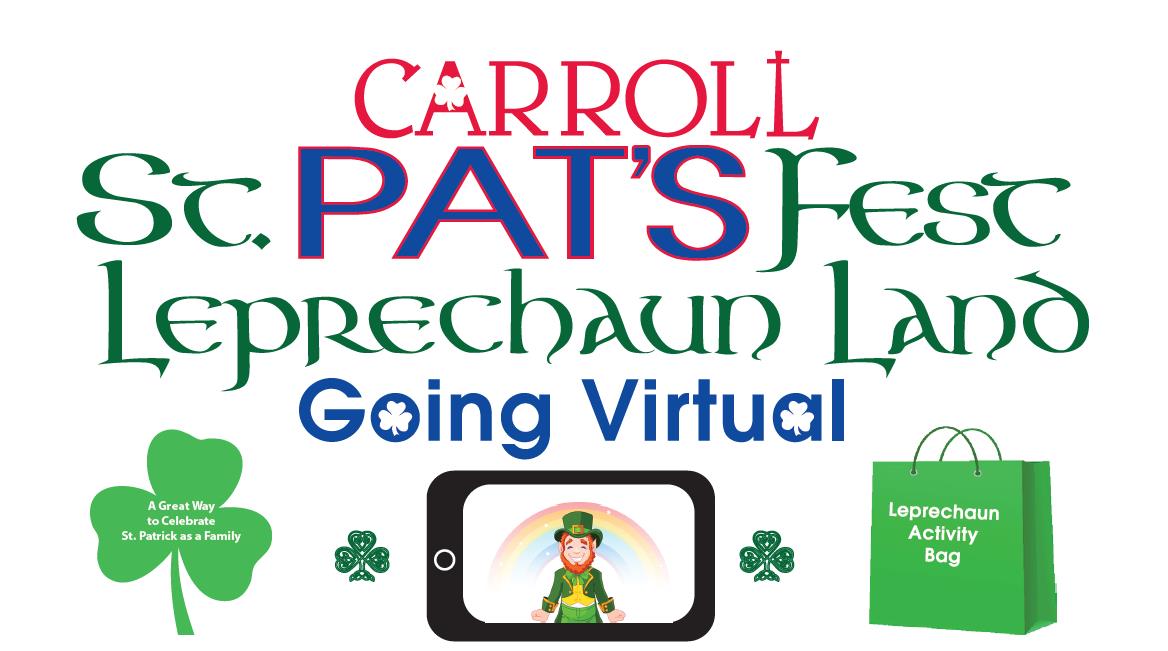 50/50 Pot of Gold Raffle
3 Cash Prize Winners!
1st Prize: 25% of the proceeds
2nd Prize: 15% of the proceeds
3rd Prize: 10% of the proceeds
Tickets: $5 for 1 chance; $10 for 3 chances; $20 for 10 chances; $50 for 30 chances; $100 for 75 chances
The prize grows with every ticket sold!
50/50 tickets will be sold at the carryout event and online until 7:00 pm on Saturday, March 13th.
Drawing will be held on Saturday, March 13th at 8:00 pm, viewed via Livestream.
Sponsorship Information
Thank you to our 2021 Sponsors and Donors!
COMPLETE LIST OF 2021 SPONSORS AND DONORS HERE
Go here for a list of sponsorship benefits.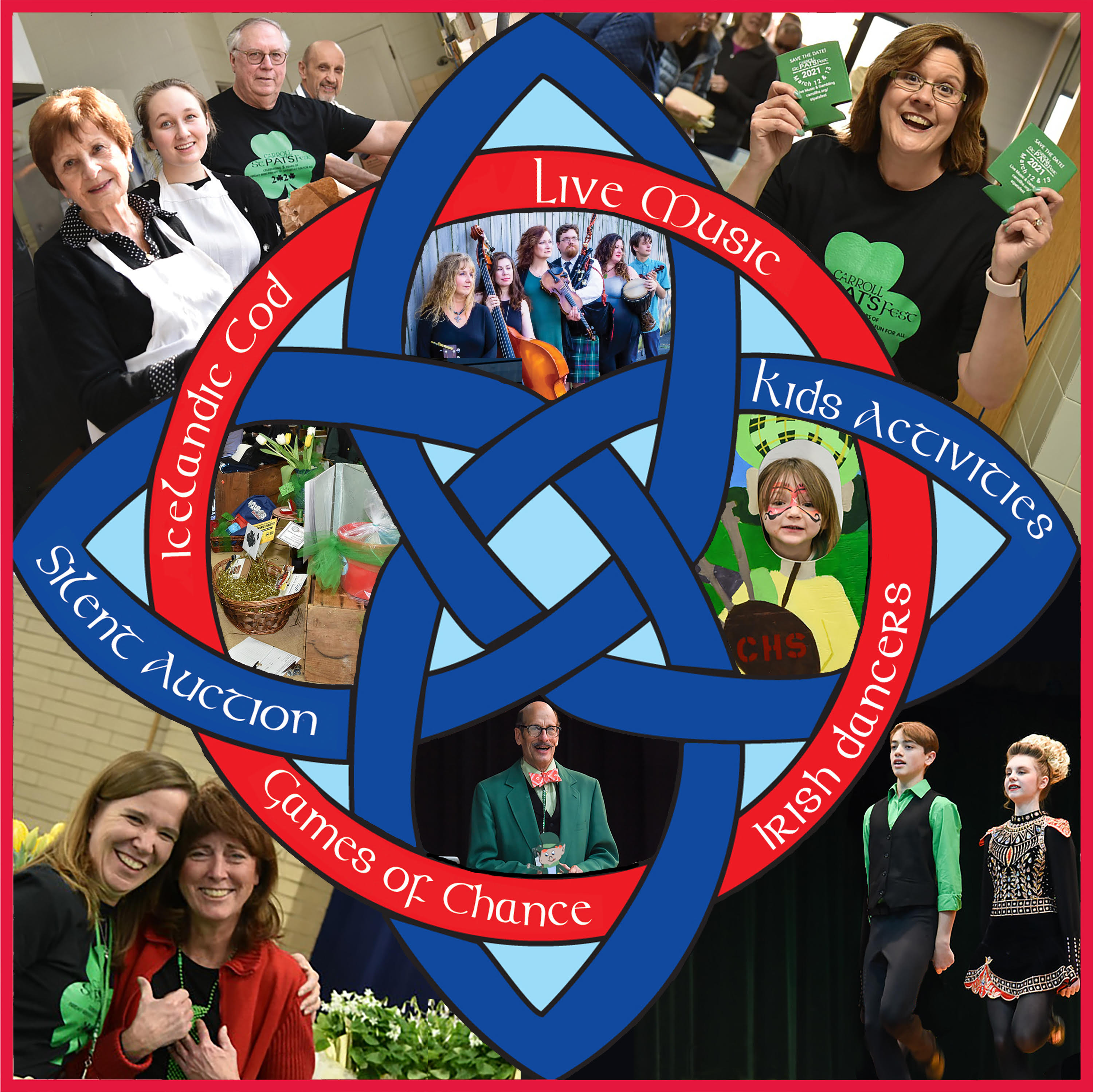 St. Pat's Fest Important Details
Contact Information

Primary Contact
Dan & Karen (Stermer) Eckhart '85/'85
Event Chairs

Secondary Contact
Julie (Hemmert) Weitz '94
Director of Alumni Relations
(937) 253-8188 X339

Dates & Location
Date: 3/12/2021 to 3/13/2021
Location: Carroll High School Cafeteria & Gymnasium(s)
4524 Linden Ave.
Dayton, OH 45432
2021 Carroll St. Pat's Fest T-Shirt Design