Athletic Hall of Fame Guidelines
The next Athletic Hall of Fame Ceremony will be held during Alumni Homecoming Weekend in Fall of 2024, specific date and location to be determined. To see the videos of the most recent Athletic Hall of Fame awards assemblies, go to https://www.youtube.com/user/TheCarrollPatriots.
The Athletic Hall of Fame Committee was established in 2001 to recognize individuals who have made significant athletic contributions to Archbishop Carroll High School and assist the administration in perpetuating the spirit of pride and loyalty.
There are three categories for consideration; Athletes, Special Contributors, and Teams. Athletes cannot be considered until 10 years after graduation. Athletes must have at least two varsity letters and not have left Carroll due to academic or disciplinary reasons. Their inductions are based on their achievements during high school. Subsequent athletic success may be noted, but is not part of the consideration for induction.
Special Contributors and Teams can be considered at the discretion of the committee.
The volunteer selection committee makes nominations and considers those received from alumni and the community. Members may nominate anyone from any era. Once a candidate is nominated, his/her name cannot be removed from the list unless subsequent research discovers they do not meet the criteria. The committee will have the ultimate authority to make a determination of the nominee's eligibility based on character and fitness of the candidate before or after induction.
You may complete the nomination form here on this website.
Questions? Please contact the chairs:
Julie (Staton) Malesko '93: jmalesko@yahoo.com
Christine Youngerman '79: cyoungerman@carrollhs.org
Athletic Hall of Fame Inductees

Athletic Inaugural Class of 2003
Front Row, left to right: David Green '78, Frank Klotz, Elita Presutti '91, Teri Hobbs '81, Jeff Popp '83, Mark Frankenberg '86
Back Row, left to right: Mark Vest '81, Denny Lane '72, Mike Bennett '70, Coach Jim Spoerl, Coach Jim Hemmert, John Neatherton '65, Fred Borgert '67

Athletic Hall of Fame Class of 2004
Standing, left to right: Pam (Staton) Tipps '91, Steve Hohl '73, John Schneider '71, Don Popp '79, Dave Heider '79, Charlie Beecroft '69, Eugene John Schmitt MD, Jim Kuntz, Howard Burger, Pat West '72

Athletic Hall of Fame Class of 2005
Standing, left to right: Coach Michael Donohue, Don Fortener '72, Edward Schaeffer '72, Ty Reuber '77, James J. Spoerl '78, Randy Bitsko '86, Matt Leopard '92, Jodi (Bitsko) Dahm '93

Athletic Hall of Fame Class of 2006
Standing, left to right: Sheryl (Jennings) McGurk '85, Carri (Campbell) Seaman '95, Coach Michael Roberts, Sharon (Beigel) Beck '73, Steve Wolodkiewicz '71, John Agnew '80, not pictured Todd Jones '70

Athletic Hall of Fame Class of 2007
Standing, left to right: Mark Gerhard '72, Dina (Hilgeford) Byrnes '78, Kevin Mosher '74, Pat McDevitt '82, Tim Norbut '82, Tony Ferraro '84, Chris Schmitt '71, Julie (Staton) Malesko '93

Athletic Hall of Fame Class of 2008
Standing, left to right: Nick Anello '71, Colleen (Edwards) O'Rourke '84, Janet (Emerson) Hollenbeck '83, John Fisher '75, Terry Thill '72, Coach Ron Russo

Athletic Hall of Fame Class of 2009
Standing, left to right: Chris (Barney) Sacksteder '76, John McHale '70, Charlie Middleton '94, Missy Belcher '97, Susan (Blommel) Gates '92, Shawn Blatt '82, not pictured Paul Hilliar III '93

Athletic Hall of Fame Class of 2010
Standing, left to right: Mike Rotterman '66, Pat Kiggins '70, John Kappeler '72, John Schaeffer '76, Christine Youngerman '79, Sarah (Henninger) Dunn '91, Kyle Geswein '98

Athletic Hall of Fame Class of 2011
Standing, left to right: Terry Jones '67, Greg Furderer '81, Aaron Howard '93, Rhonda (Rains) Skare '93, Christin Lacroix '94, Paul Schaeffer '93

Athletic Hall of Fame Class of 2012
Standing, left to right: Coach Scott Molfenter, Jeff Clemens '01, Dan Flaute '95, Nick Germano '90, Phil Long '92, Damian Schmitt '81

Athletic Hall of Fame Class of 2013
Standing, left to right: Glen Manny '72, Matt Rotterman '94, Maria (Sprauer) Bechtold '78, Scott Franz '79, Joey Mauro '98, Coach Steve Bartlett, not pictured Rick Good '69

Athletic Hall of Fame Class of 2015
Standing, left to right: Monica Notestine '76, Dennis Wahle '84, Tim Bell '96, Robyn Swain '99, Chris Coleman '02, Nick Terbay '02, Patrick O'Bryan '03

Athletic Hall of Fame Class of 2017
Standing, left to right: Katie (Flaute) Shelton '02, Katie (Streck) Clingner '04, Terry (Nail) Williams '80, Coach Marilyn (Wilson) Hall, Jason Bullens '99, Alex VanderSluijs '03, Mark DiSalvo '00, plus the 1980 State Champion Soccer Team

2017 Athletic Hall of Fame Team Induction
1980 State Champion Soccer Team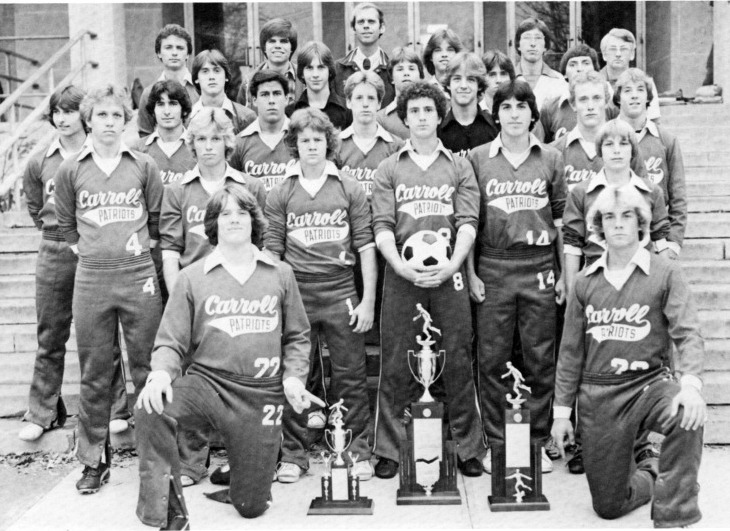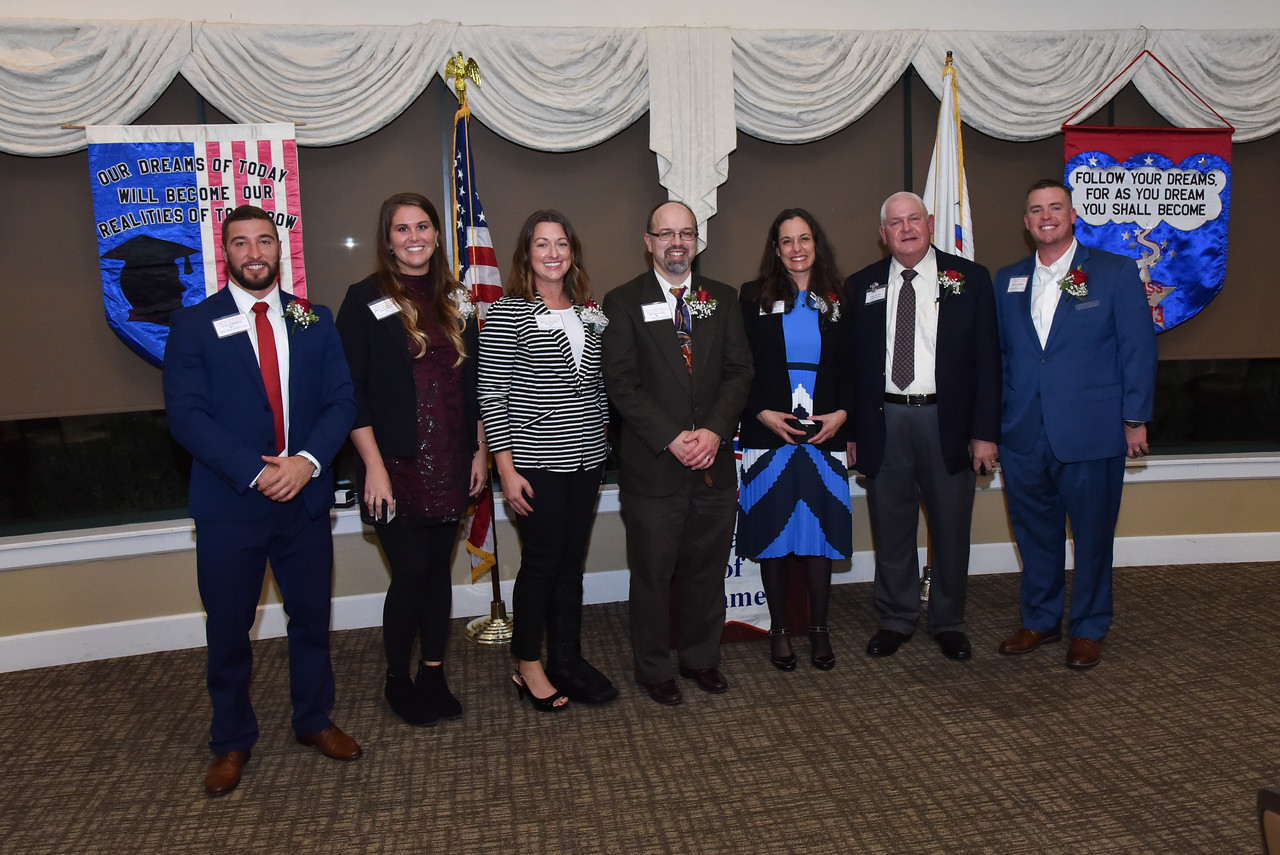 Athletic Hall of Fame Class of 2019
Standing, left to right: Lyle Garrison '05, Brittany (Horvath) Stiegemeier '04, Becky (Belcher) Mueller '00, Joe McGarvey '89, Juliet Nail '88, Tom Sableski, Justin Mosher '03, plus the 2008 State Champion Soccer Team

2019 Athletic Hall of Fame Team Induction
2008 State Champion Soccer Team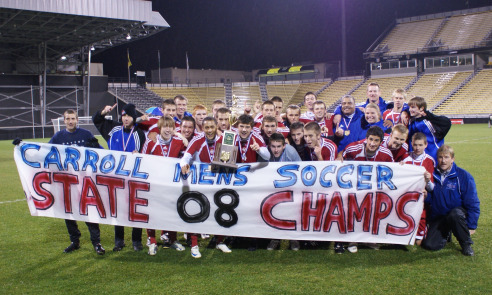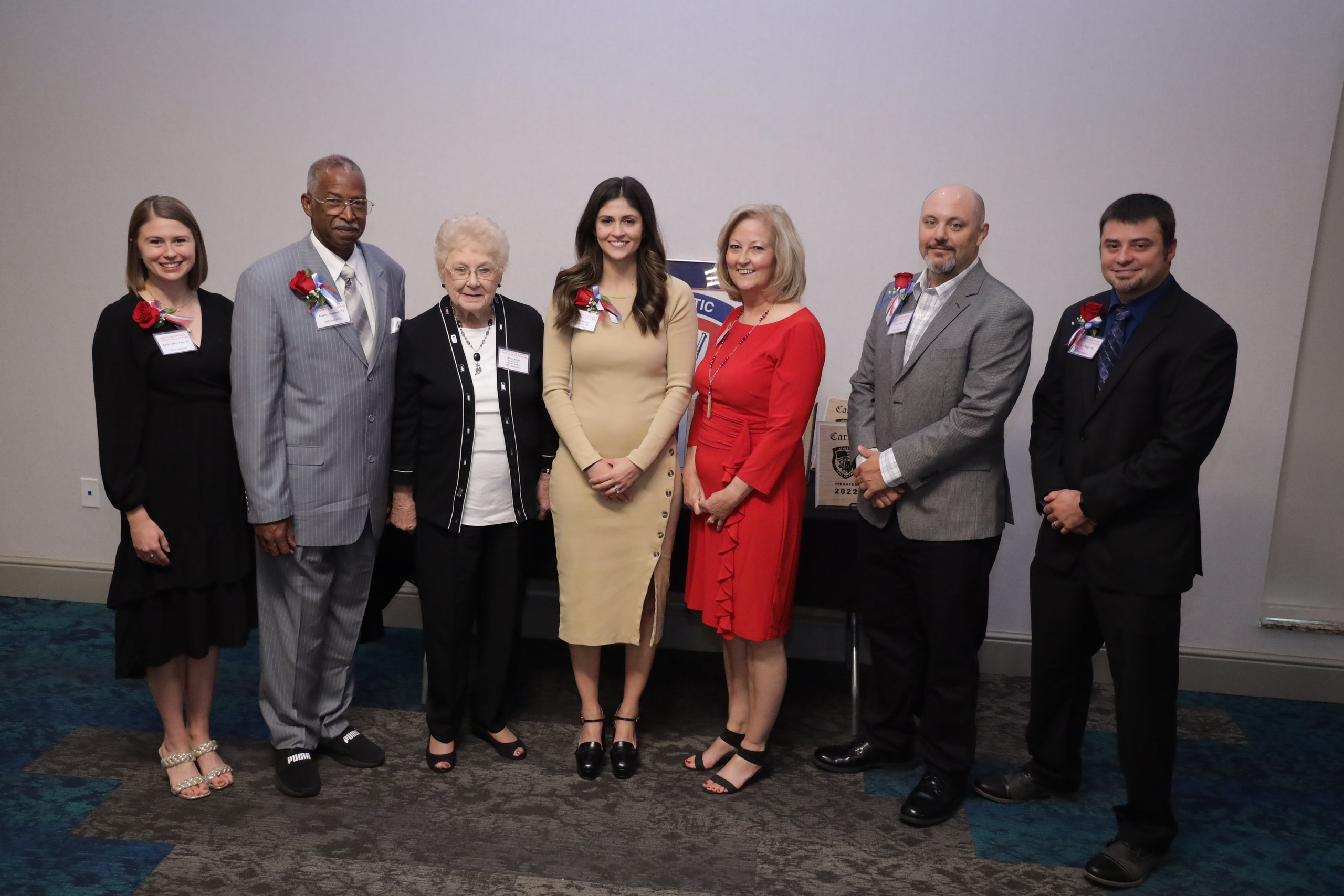 Athletic Hall of Fame Class of 2022
Standing, left to right: Katie (Ollier) Chu '11, Stanley Gaither '76, Shirley Keller (representing deceased husband, Charles Keller, Special Contributor), Brogan (Berry) Magnarelli '08, Kathy (Pierce) Berry '76 (representing deceased husband, Coach Rob Berry, Special Contributor), Greg Terbay '98, Jason Riggs '06; not pictured James Borchers '02; plus the 1998 State Dual Champion Wrestling Team