Navigating Vocational Success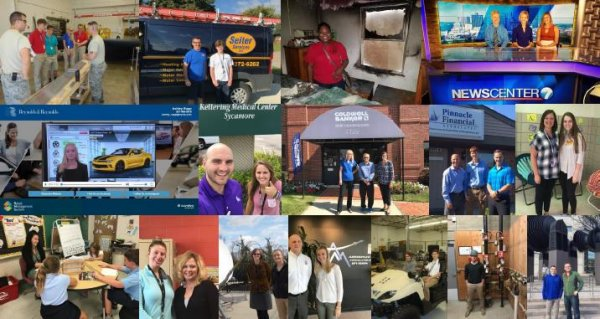 The Carroll High School Alumni Association (CHSAA) offers a Carroll Alumni Mentor Program focused on college and vocational choices. This program is a true fulfillment of our mission of bringing together Carroll alumni, administrators, and faculty/staff for the growth of current students.
WHAT: The CHS Alumni Mentor Program provides the framework for positive relationships between local and national alumni and CHS students. These relationships will help contribute to the student's positive interactions between their school, community and family. Students will be helped to develop communication skills, as well as vocation, career and college awareness in order to make better life-long decisions and contributions. Other alumni can also seek help from Alumni Mentors if they are interested in making vocation, career or college changes.
WHY: The mentoring program provides an excellent opportunity for students to begin looking at life after Carroll. Students will have the chance to learn from those who came before them and continued on in certain careers or educational paths. This program also offers alumni a great way to give back to the Carroll community by offering their time, talent and effort.
WHO: All Carroll alumni are invited to be a mentor. The program provides many levels of involvement (listed below) based on the amount of time alumni can commit to the students. A mentor application is required to determine commitment level and to appropriately match a mentee. Parental approval must be received in advance for those students under age 18.
WHEN: The committee will begin reviewing applications as they are received. Applicants will be contacted regarding next steps.
Questions? Contact the Alumni Mentoring Committee Chairperson, Julia (LeMaster) Bey '95, or Carroll's Director of Alumni Relations, Julie (Hemmert) Weitz '94.
Mentors provide students and fellow alumni with college- and vocation-related information, advice and support through a variety of ways:
Carroll High School juniors and seniors will have the opportunity to observe and learn from alumni about a career or vocation that interests them. The student does not need to be decided in their career field to participate; the shadow day is an opportunity for them to learn more about their options. The Alumni Job Shadow Day will occur on one school-selected day during the school year. The date set for the 2020-21 school year is most likely Thursday, October 1, 2020. This will be an excused absence for those students who choose to participate. All alumni and students interested in participating in Job Shadow Day for 2020 can sign up here. Be sure to pay close attention to the alumni form versus the student form. Students and alumni will be notified of their assignment by September 25. Alumni can designate certain hours for the student to shadow them; it does not have to be the entire workday. Third shift hours cannot be accepted and the job location must be within 80 miles of Carroll High School. The purpose of the Alumni Job Shadow Day experience is to link students with alumni. This is not the time for students to shadow their parents, family members or friends; those shadow experiences should occur on a day when school is closed. The only exception to this is if alumni cannot provide the shadow experience the student is looking for.
Please watch this video for more information about Alumni Job Shadow Day.
Carroll High School seniors, especially those who are first-time college-bound students, who need some additional help with college admission essays, applications, financial aid information, etc., will be matched with alumni who can navigate them down the road towards success. Seniors' parents are invited to be included in these meetings as well. Carroll's guidance office also provides resources to help in this area.
At the request of a Carroll High School teacher or administrator, an alumna or alumnus will be invited to speak to a class or small assembly of students regarding their career and/or college experience.
Repeated meetings or discussions scheduled so that alumni can advise students on questions they have about vocation or college choices.
Mentors will provide students and/or alumni information about their field of work or college they attended. This information can be shared via phone, email, mail, Skype, or in person.
CRITIQUE RESUMES/COVER LETTERS
Mentors will offer Carroll High School students and/or alumni feedback on their resumes and cover letters. This can occur via phone, email, mail, Skype, or in person.
Mentors will conduct a mock interview with students and/or alumni who are preparing for an interview in their industry and/or graduate school program. Mock interviews can be held in person, by phone, or via Skype.
Parental approval must be received in advance for those students under age 18. Private one-on-one meetings are not encouraged, unless they are held in a public place, such as a restaurant, library, workplace, conference room, or classroom when other individuals are nearby. The Archdiocese of Cincinnati requires regular volunteers to take part in the VIRTUS Program. Regular volunteers are defined as those who have contact with the same student for ongoing meetings at least once per month.

Prior to participating in the Job Shadow Day or any other Alumni Mentor Program activity that is not on Carroll High School premises, students are required to have a permission slip filled out by their mentor and signed by their parent or legal guardian. The completed permission slip then needs to be submitted to Mrs. Julie Weitz in the Alumni Office or via email at jweitz@carrollhs.org.