DID YOU KNOW THAT A GIFT TO THE CARROLL PATRIOT FUND IS JUST AS IMPORTANT TO THE SCHOOL'S ANNUAL BUDGET AS YEARLY TUITION?
The actual cost of an Archbishop Carroll High School education is $12,500 per person for one school year. Tuition covers 80% of that cost. The Carroll Patriot Fund makes up the difference at approximately $2,500 per student. Carroll has a history of keeping tuition affordable for our families. This could not happen without your support of the Carroll Patriot Fund.
You can set-up, change or stop your gift at any time. Consider an easy, ongoing, perpetual sustaining gift that will transform Carroll students year-round. The recurring pledge option is available online once you select the fund. You have control over the frequency and total occurrences for your donation.

What is the Carroll Patriot Fund?
The Carroll Patriot Fund is made up of annual gifts from alumni, parents, parents of alumni, faculty and staff, grandparents, and friends of Archbishop Carroll High School. This ongoing support is key to the continuing operation of Carroll High School so that the finest education possible is offered to each and every student. These unrestricted funds are crucial to:
Advancing the school's Catholic mission
Maintaining excellent academic and extracurricular programs
Helping to pay teachers' salaries
Paying utilities and facility needs
Assisting with tuition assistance
Meeting current operating expenses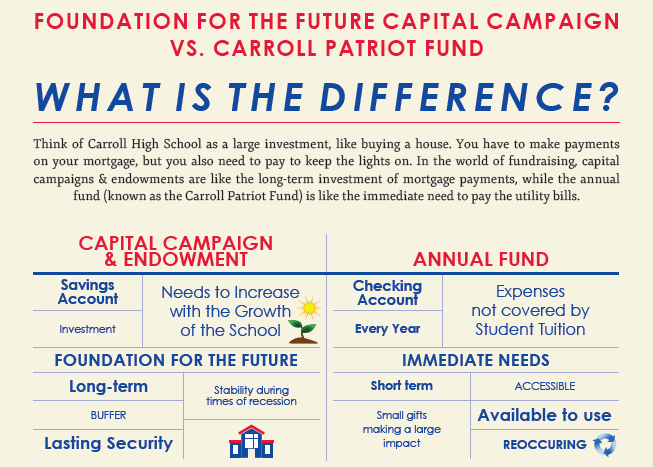 Why give to the Carroll Patriot Fund?
You think changing the life of a student is a pretty good return on investment.
You understand that giving rates affect the future of Archbishop Carroll High School. Traditionally, strong institutions have strong annual funds.
You know that Archbishop Carroll High School depends on annual fund support because tuition covers only part of Carroll's yearly operating expenses.
You want to give back to Carroll because Carroll has given so much to you.
You love Archbishop Carroll High School and are proud to be a Patriot! You'd like others to have the same opportunities you received at your Alma Mater.
You want to be recognized in the Annual Review of Giving in the summer issue of Carroll's Reflections Magazine. By giving to the Carroll Patriot Fund, you can join in a specific giving society.
You'd like your class to win the class giving challenge. This past fiscal year, the Class of 1966 achieved the highest level of participation at 25.8% and the Class of 1967 the second highest at 21.2%. Which class is going to impact the most students this year? Once again, the class with the highest level of participation at the end of the 2022-2023 fiscal year will receive $100.00 towards their next reunion. The goal is 100% participation by all graduates; any amount will help reach this goal and truly make a difference to Archbishop Carroll High School! As of 6/26/2023, the Class of 1966 was in the lead at 23.6%. The competition isn't over yet until June 30th so keep up the Patriot Spirit! Thank you for your generosity!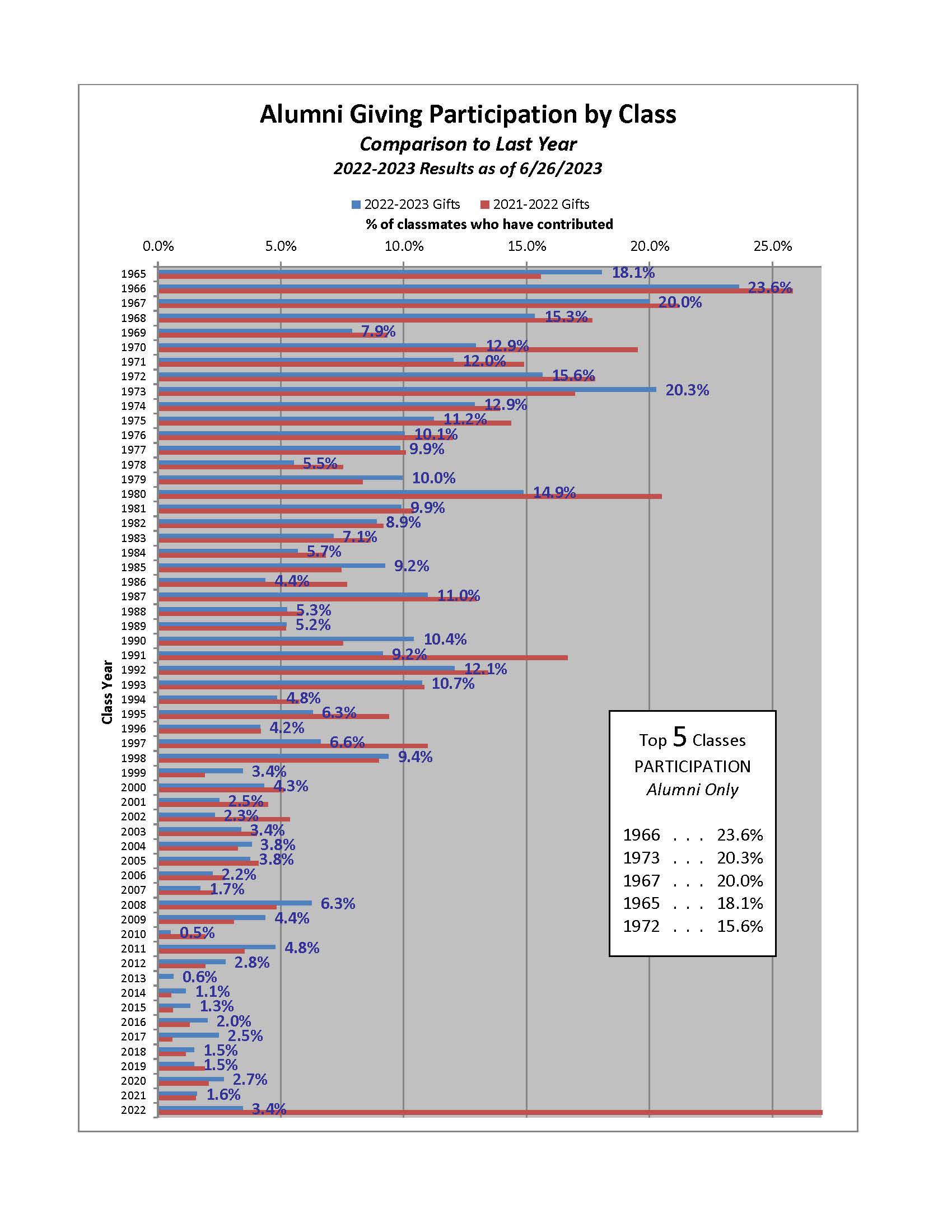 So the real question is, WHY NOT give to the Carroll Patriot Fund?

Contributions to the Carroll Patriot Fund (and all gifts to Carroll High School) are tax-deductible and can be made by cash, check, or credit card. Pledges can be made and paid in installments. The fiscal year runs July 1 through June 30.
Many companies will match gifts to Archbishop Carroll High School by their employees. Please check with your human resources department to see if your employer matches charitable contributions.
Questions about the Carroll Patriot Fund? Contact Julie (Hemmert) Weitz '94, Director of Alumni Relations, at (937) 253-8188 x339 or jweitz@carrollhs.org, or Pete Williams '98, Director of Advancement at (937) 253-8188 x311 or pwilliams@carrollhs.org.
2022-2023 Carroll Patriot Fund Leadership Team
Principal
Matt Sableski '91
Director of Advancement
Pete Williams '98
Director of Alumni Relations
Julie (Hemmert) Weitz '94
Director of Communications
Michael Franz '05
Advancement Assistant
Melissa Leaman
Faculty & Staff Chair
Nicole Druck
Parent Class Captains
Class of 2023
Duane & Sara Harrison
Class of 2024
Jeff & Griselle Ortiz-Ramsey
Class of 2025
Brian & Jennifer Pleiman
Class of 2026
Jon & Tressa Kneer
Alumni Class Agents
Steve Freeze '67
Richard '73 & Nancy (Spoerl) Vogel '73
David Green '78
Eddie Heigel '83
Maria (Chilia) Snizik '88
Joshua Sens '93
Heather (Taylor) Terbay '98
Sara (Woolf) Anderson '03
Adam Fearing '08
Nate '13 & Ciara (Poppa) Hemmert '13
Audrey Marticello '18
Archbishop Carroll High School Giving Societies
PRINCIPAL'S LEADERSHIP COUNCIL:
Partners in Mission: $50,000 or more
Trustees Society: $25,000 to $49,999
Founders Society: $15,000 to $24,999
Honors Society: $10,000 to $14,999
John Carroll Society: $5,000 to $9,999
Victory Society: $2,500 to $4,999
Patriot Society: $1,000 to $2,499
The Principal's Leadership Council honors lead benefactors to the Carroll Patriot Fund whose uncommon generosity sets the standard for philanthropy and demonstrates a commitment to the ideals and mission of Archbishop Carroll High School. Membership in this society is open to all individuals, companies and foundations who make a gift of $1,000 or more to the Carroll Patriot Fund prior to June 30th. Young alumni (Class of 2012 to present) who contribute $250 or more are also included as members.
GENERAL GIFT CLUBS:
Red, White and Blue Council: $500 to $999
Liberty Club: $250 to $499
Century Club: $100 to $249
Patron Society: $50 to $99
General Gift Clubs form the foundation of charitable support for our mission at Archbishop Carroll High School. Each and every gift has a meaningful impact on every aspect of this school and on all those who work and study here.