Dayton's Only Purple Star Catholic High School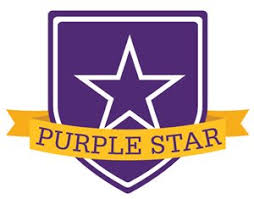 In February 2020, Archbishop Carroll High School became the first and only Catholic high school in the Dayton area to earn the Ohio Department of Education's Purple Star Designation as a military friendly school. According to the ODE website, 'The Purple Star Award for military-friendly schools recognizes schools that show a major commitment to students and families connected to our nation's military."
2019 is the first year that Archbishop Carroll High School met all ODE criteria for the designation including employing a staff point of contact for military students and families to serve as the primary liaison between military families and the school and maintaining a dedicated page on the school website featuring resources for military families. Carroll also met the additional criteria of hosting an event to showcase our commitment to honoring our military families on Veterans' Day.
"Given our close proximity to Wright Patterson Air Force Base it is only natural that we meet the educational needs of children whose parents are serving our country," Principal Matt Sableski '91 says. "We want all of our families to feel welcome and we work hard to make sure that integration into our community is seamless regardless of where they are coming from or how long they'll be with us."
When relocating to the Dayton region on assignment, Col. (Ret.) Cassie Barlow, Archbishop Carroll High School Board President, parent of alumni, and former commander of Wright-Patterson Air Force Base, chose to send her daughter to Carroll in part because of its strong support system for their situation as a military family in an unfamilar place. "Our family chose Archbishop Carroll High School because of its strong service ethic for military families. We were immediately welcomed into the Carroll family and still feel part of the family after our daughter graduated. Carroll has built a culture of service that permeates through everything they do, and we are very proud to be part of this amazing community."
Located two miles away from Wright-Patterson Air Force Base, Carroll has a long history of welcoming active-duty military members into the Patriot community. For years, Carroll has provided many of its students opportunities to work on the grounds of the base through the Wright Scholars program.