Voices Ringing
Student of the Week: Joshua Fischer '21
November 08, 2019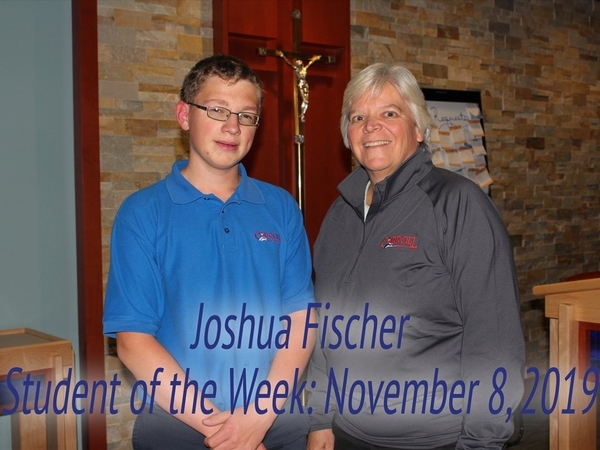 Joshua Fischer '21 with Mrs. Joyce (Potts) Dunham '83
Joshua Fischer '21, Mercy House
What activities do you participate in?
Marching Band
What is your favorite part of being a student at Carroll?
I love the people and all the teachers and staff! I also really love the morals that Carroll strives to instill in the students.

What should school "do" for you?
School should be where you learn the necessities of life and help shape you for your future.

What's a lesson you learned when you overcame a difficult obstacle?
Stay strong and persevere! If you're in a tough situation, just know it will get better. Also, listen to your parents. They're always right, even if you don't want to believe it.

What's your biggest dream in life?
I would love to coach an NFL team or college football team. I would also love to retire and buy a farm in Wyoming.

How do you like spending your free time?
I love watching and playing football, listening to music, finding new TV shows,
"Josh will reach out to others and try to be a good friend to those who seem alone. He noticed a student sitting alone at lunch and he picked up his lunch and went to sit with the other student." - Mrs. Joyce (Potts) Dunham '83