Voices Ringing
The Season of Giving Art: Christmas with the National Art Honor Society
December 24, 2021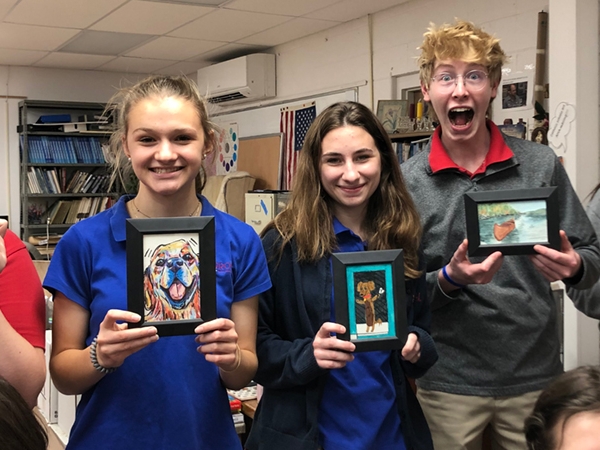 The National Art Honor Society at Carroll High School has always made it a priority to bless the community with our artistic gifts. As an organization, we understand that our talents were meant to be shared and used to brighten the world. This idea has become the cornerstone mission of the National Art Honor Society at Carroll High School.
Secret Santa with an Artistic Twist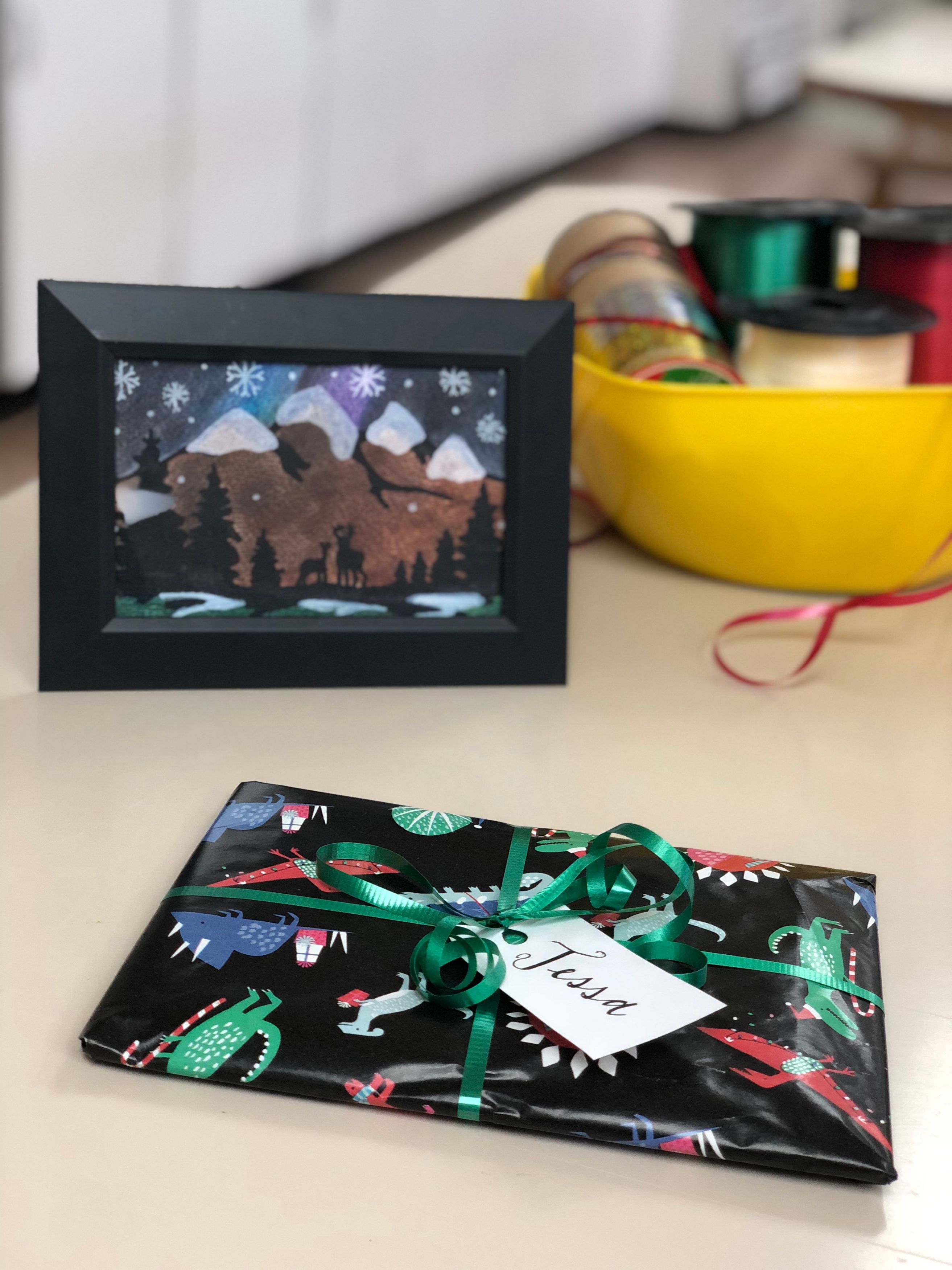 This year in the spirit of Christmas, the NAHS decided that they wanted to bless each other with an artistic gift. Each NAHS member wrote out a notecard with their name and some information about themselves, such as their favorite color, medium, animal, movie, hobby, and their preferred "aesthetic" (the overall style of someone or something). During the November NAHS Induction meeting, each member randomly selected a fellow member's card. Using the information given, the students were to secretly create a personalized art piece for their chosen peer. A variety of mediums could be used in these creations, including graphite, colored pencil, pastel, charcoal, watercolor, and acrylic paint. The subject matter was completely unique and specific to the listed interests of the selected student.
The Exchange
During our NAHS Christmas party in December, students came with their completed creations, framed, wrapped, and ready to give to their respective owner. The meeting was equipped with sweet treats and classic Christmas music playing in the background. The spirit of Christmas was soaring in the art room!
In great anticipation, each secret Santa found their unknowing peer and presented them with their wrapped art piece. On the count of three, students eagerly unwrapped their gifts. Smiles of appreciation illuminated the room as students began to unveil their personalized artworks. These handmade gifts were unique in that not only were they a gift of creative thoughtfulness but also a gift of each other's time. Our time is a precious gift that we never get back. The donation of each NAHS member's time in the personalized creation of each gift made the exchange very special and deeply appreciated by each student. It was a great way to connect with other artists in the society and gain a greater sense of belonging to the Carroll art community.
You Get What You Give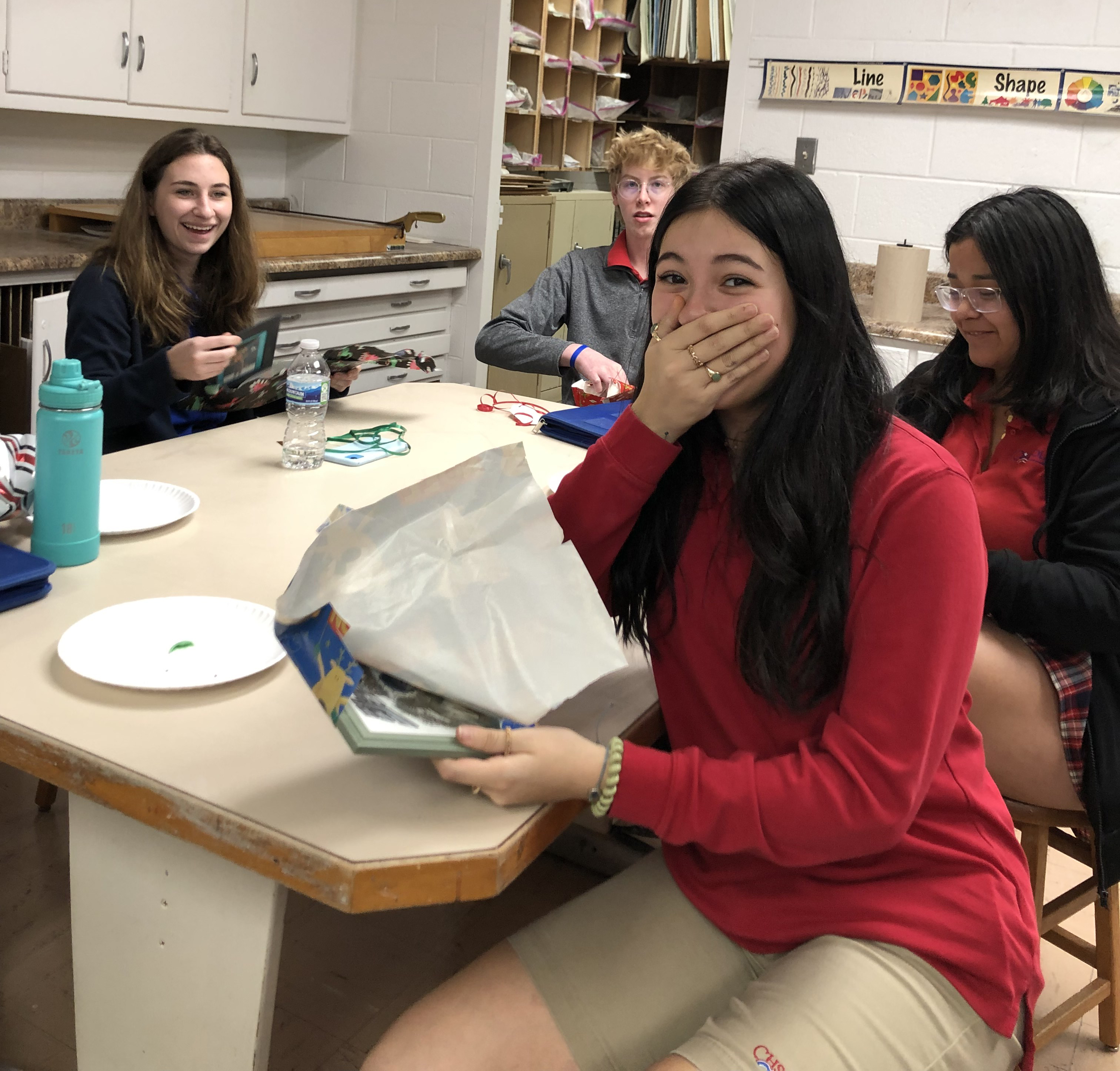 Often times, the NAHS will give their artistic gifts to the greater community, such as donating and designing Halloween themed lunch bags filled with candy or providing art supplies at Christmas to local kids in need. Rarely, do the art students ever get to see the joy they have brought to the people they have helped. The NAHS gift exchange was a very rare opportunity for the NAHS members to not only witness the joy their artistic gifts bring, but to also feel the joy themselves of being blessed by another's artistic talent and time.