Voices Ringing
Student of the Week Roberto Coronel Ramirez '26: November 2, 2022
November 02, 2022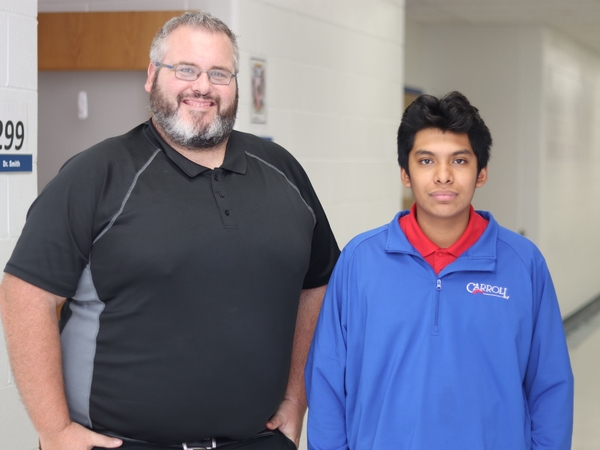 Roberto Coronel Ramirez '26, Mercy House, with Dr. Cody Smith
Roberto has been very engaged and works hard inside and outside of the classroom. While he prefers to work alone, I have noticed that he is willing to get outside of his comfort zone and work with his classmates during group activities. He is always one of the first students to attempt to answer questions and will ask questions when he needs assistance. While these are all great qualities in a student, the thing that I think puts him over the edge is at the end of class, he will go around the classroom and put up any chair that doesn't get put up by other students before he leaves for the day.

-Dr. Cody Smith
What activities do you participate in?
I participate in soccer.
What's your favorite part of being a student at Carroll?
The teachers at Carroll are what I like the most.
What should school "do" for you?
School should help me with what I need to achieve my goals.
What's a lesson you learned when you overcame a difficult obstacle?
Never giving up is very important.
What's your biggest dream in life?
Leading a happy life.
How do you like spending your free time?
Playing soccer with my friends.