Voices Ringing
Student of the Week Matthew Conley '23: September 7, 2022
September 07, 2022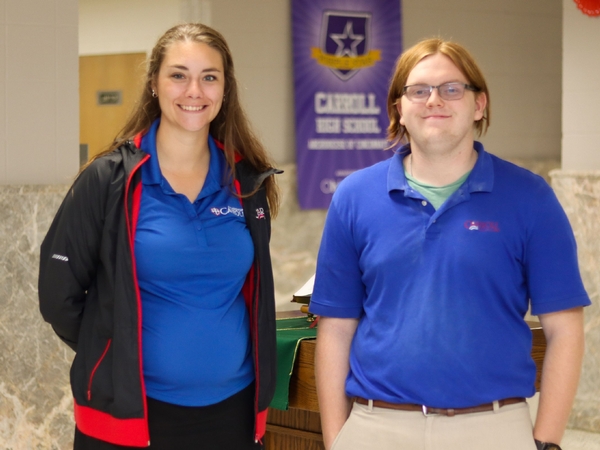 Matt is a senior in Gonzaga Family Room 209 and has more than stepped up as a leader and support to our Captain, Michael McHugh. He has taken charge of the celebration of birthdays, initiated the family football fantasy draft, and has been an overall wonderful example as to how all seniors in every Family Room can get involved and have a positive influence. Thank you Matt for all of your hard work and dedication to making everyone in our Family Room feel special and included!"

-Mrs. Abby (Wiles) Merkle '11
Matt Conley '23, Gonzaga House, with Mrs. Abby (Wiles) Merkle '11
What activities do you participate in?
I'm a member of the Pop Culture Club.
What's your favorite part of being a student at Carroll?
I really enjoy the sense of community between the students and staff.
What should school "do" for you?
School should help prepare you for adulthood.
What's a lesson you learned when you overcame a difficult obstacle?
Community and the support it can provide is important.
What's your biggest dream in life?
My biggest dream is to live in Ireland one day.
How do you like spending your free time?
I like to listen to music and play guitar.