Voices Ringing
Student of the Week Lauren Morquecho '23: September 15, 2022
September 15, 2022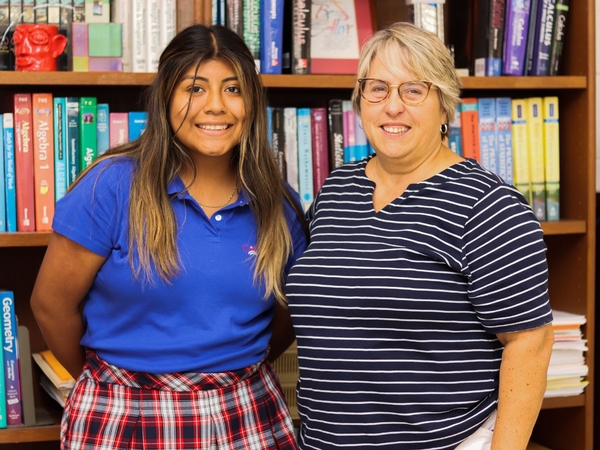 Lauren Morquecho '23, Mercy House, with Mrs. Mary Ollier
Lauren Morquecho is the Inter-House Captain for Mercy House. She is particularly skilled at welcoming, encouraging, and including her fellow students in activities and events. Lauren is upbeat and positive, and she's a champion for a student who may feel unincluded or is having a tough day. On schedule pick-up day, Lauren worked with native Spanish-speaking families to help those families complete the tasks needed for the start of the school year, and on Meet the Teacher night, she led our Family Room session by describing the academic, spiritual, emotional, and community benefits of Family Room and our House System.

-Mrs. Mary Ollier
What activities do you participate in?
I am in Spanish Honors Society, Spanish Club, Innerhouse Captain for Mercy and Softball.
What's your favorite part of being a student at Carroll?
My favorite part of being a student at Carroll is the nurturing of the House System Family Rooms and the welcoming community.
What should school "do" for you?
It should create a positive environment for minority students as well as opportunities for them.
What's a lesson you learned when you overcame a difficult obstacle?
When you set your mind to something and you 100% know you can do it, do it don't let someone else tell you that you can't.
What's your biggest dream in life?
For my family always to feel safe and protected.
How do you like spending your free time?
I like spending my free time playing with my little sisters or watching my nephews play their sports.