Voices Ringing
Student of the Week Gunnar Shiverdecker '25, November 11, 2022
November 10, 2022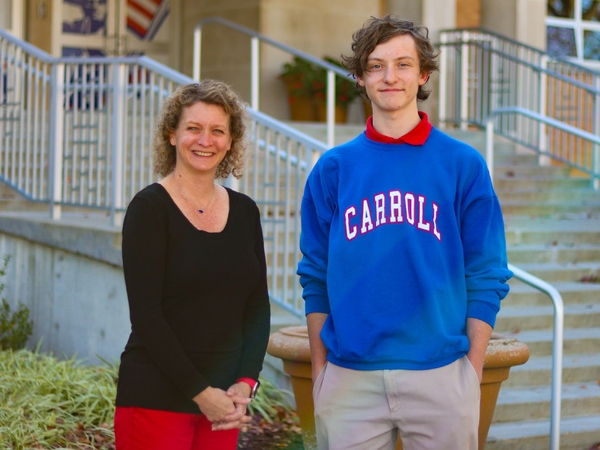 Gunnar Shiverdecker '25, Mercy House, with Mrs. Nicole Druck
Gunnar is an all around great kid. His school spirit stands out as he went especially all in for Homecoming Spirit Week bringing a smile to everyone's face. He is very kind to everyone as well.
What activities do you participate in?
I'm a member of Chess Club and considering trying out for the Bowling Team.
What's your favorite part of being a student at Carroll?
My favorite part of being a student at Carroll is probably the sense of community, because despite me not being the most outgoing person, it took me almost no time to open up to others and make friends.
What should school "do" for you?
School should give me a place to not only prepare for the future that lies ahead of me and help me build friendships with people that will be there for me years after I've graduated.
What's a lesson you learned when you overcame a difficult obstacle?
I've come to learn from my obstacles that what comes after an obstacle is always worth pushing for, even if it's just a sense of accomplishment.
What's your biggest dream in life?
My biggest dream in life is to give back to the BMX scene. With how much it has given me, I'd love to give back in any way possible, whether it be starting my own brand, opening a bike shop, or just helping the next generation of BMX riders by giving them extra parts or advice on a trick they can't seem to figure out.
How do you like spending your free time?
I spend the majority of my free time outside of school riding BMX, laying down some nasty riffage on my 5 string bass, trying to figure out what to make for breakfast as a vegan, or playing video games with friends.