Voices Ringing
Sam Brun '26, Student of the Week January 17, 2023
January 17, 2023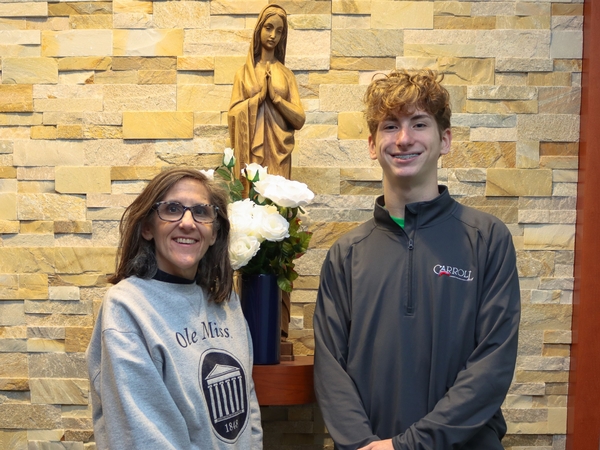 Sam Brun, 26, Trinity House, with Mrs. Diane (McNelly) Keller '83
Sam Brun is a hard working student in class and contributes regularly to class discussions. I have him in a class with Sophomores and Juniors, and he is the only Freshman. This does not intimidate him in any way. He is also able to handle situations that could make lead to tension with other students with grace and patience.

-Mrs. Diane (McNelly) Keller '83
What activities do you participate in?
I am a part of the Marching Band, and I play club and high school volleyball.
What's your favorite part of being a student at Carroll?
My favorite part of being a student at Carroll is the sense of community and belonging that Carroll is so great at providing for each and every student.
What should school "do" for you?
For me, school should allow everyone to become the best versions of themselves, and allow them to learn how to overcome obstacles in life.
What's a lesson you learned when you overcame a difficult obstacle?
A lesson that I've learned is that nothing in life is served to you on a silver platter. If you want to be successful in life, taking the first step to becoming great will open your eyes to so many possibilities.
What's your biggest dream in life?
My biggest dream in life is to become successful in whatever field I choose to pursue but with that comes acknowledging why you became successful. You need to realize that God gave you the strengths and skills to become successful. That is my true dream in life, which is to praise God by using my strengths and skills to become the best version of myself.
How do you like spending your free time?
I like to spend my free time spending time with friends and family, playing volleyball, and the occasional 3 a.m. Minecraft sessions with my older brothers.