Voices Ringing
Marching into the Future: Meet Michael Gaines '86
November 08, 2023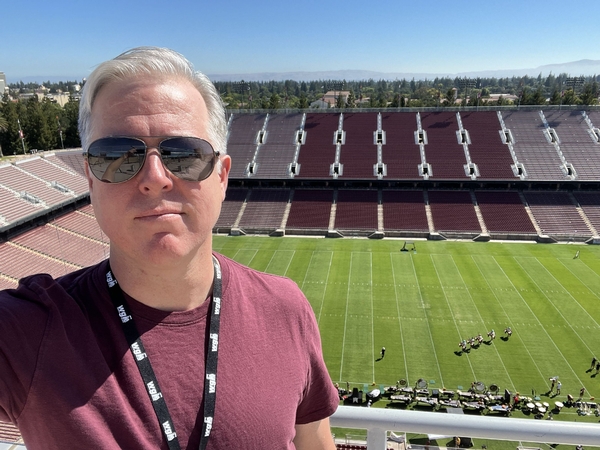 Editor's Note: This story originally appeared in the Summer 2023 edition of Reflections. Please click here to see the rest of the publication.
Long before he was an internationally renowned artist and a driving voice in the marching arts, Michael Gaines '86 was a kid mesmerized by the guitar ensemble at Mass at St. Luke Catholic Church in Beavercreek. "Music has been part of my life since I picked up a guitar in second grade and started playing in church a few years later," Michael recalls.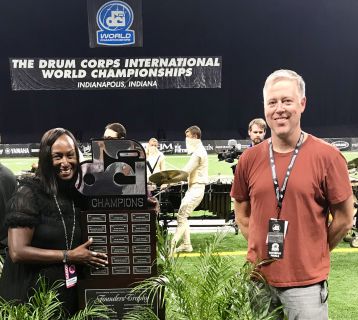 Decades later, Michael Gaines is one of the most influential minds in the world of marching band and color guard. He has designed championship winning shows for top Drum Corps International (DCI) groups and high schools across the country, but it was his desire to be a member of the Marching Patriots when he became a student at Carroll is what sparked his love for the activity. Even though he had never played tuba before coming to high school, Michael's dedication to the ensemble allowed him to grow into that role and contribute to the most successful season in program history.
The Marching Patriots reached the Bands of America finals during Michael's freshman year, but the best was yet to come. The very next season, the band broke through and won the national Class A Championship in the fall of 1983, earning an invitation to play in the Orange Bowl in Miami. Working with top educators from outside of Dayton to refine the show, rehearsing at the Dayton Convention to avoid the harsh Ohio winter, and fanfare from local newspapers and television stations are still fresh in Michael's mind – so are the obstacles that came along with his final two seasons as a Marching Patriot. "All of those years were equally impactful to me," Michael said. "You got to learn a lesson about how to handle success and a lesson about how to handle falling short of your goals competitively with the realization that this is not just about judges putting numbers on a scorecard. It's when I started realizing what the community actually means to me. As I got farther away from it, I realized how special it was to be in the music program at Carroll and have the educators and fellow members that I had throughout the four years."
Michael knew his life after high school would include the marching arts, but he did not see a full time future as a music educator. He stayed close to home, studying finance at the University of Dayton and joined the Carroll band staff as an instructor for the rifle line. Like his transition to tuba at the start of high school, Michael's focus shifted towards guard performance and design. He performed with the Cavaliers of Rosemont, Ill., one of DCI's top ensembles during the summers of his college years until he aged out of the activity at 22. The group's leadership kept Michael on staff after his days as a performer ended, and he spent 20 years teaching the color guard as well as designing seven championship shows.
As I got farther away from it, I realized how special it was to be in the music program at Carroll and have the educators and fellow members that I had throughout the four years.

-Michael Gaines '86
Now, as the Vice President of Winter Guard International's Executive Board in addition to his career as a show designer, Michael sees continued evolution and a bright future for the marching arts. The activity has grown from its roots as a military exercise into theatrical performances that Michael compares to a production on Broadway or the Las Vegas Strip. Most modern competitive shows include instruments and equipment that require electricity, intricate drill, choreography for the musicians, and props and stages across the field. Balancing the needs of the ensemble's different sections – winds, percussion, color guard – in an entertaining way for the audience is how Michael describes his role as a show designer. Like with any creative medium, Michael combines the technical foundations with creative visions to tell a story that can entertain any audience.