Voices Ringing
Student of the Week: Brooke Grieshop '22
February 04, 2021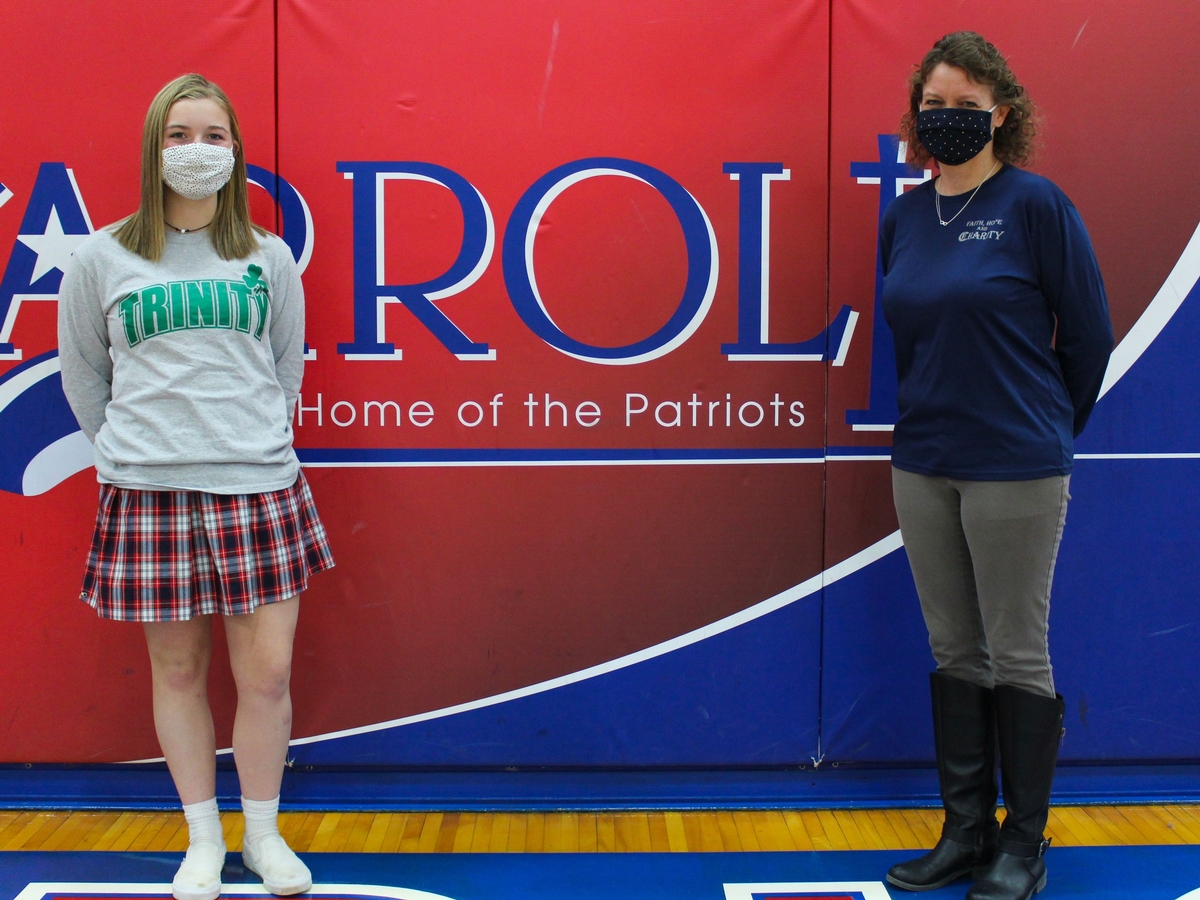 Brooke Grieshop '22, Trinity House, with Mrs. Nicole Druck
From the first day of Freshman year, Brooke has always been a positive person. Throughout so many challenges that most of us will never experience, she has risen above them to continue to be a positive person and someone her community can rely on. Brooke gives 110% to anything she does, from academics, to athletics, to being an excellent friend to others. She is using her tragedy to help others in her community by raising money for the Leukemia and Lymphoma Society in honor of her mom and grandmother.

-Mrs. Nicole Druck
What activities do you participate in?
I am part of the Carroll Women's Varsity Soccer team, Spanish Club, Spanish National Honors Society, Wrestling Stats, and a Leukemia and Lymphoma Society Student of the year candidate.
What is your favorite part of being a student at Carroll?
The supportive community. After I lost my mom, the supportive Carroll surrounded me with love.
What should school "do" for you?
School should provide a "home" outside your actual home. You should be able to come to a safe environment that allows you to focus on your studies while still having the experience of meeting new people and creating lifelong friendships.
What's a lesson you learned when you overcame a difficult obstacle?
Cherish every moment, as it could be your last. Hug your parents every time you say goodbye. Tell your friend how grateful you are for them. Thank your teachers for all the knowledge they have provided you with. Soak in every little part of life because you don't know when you will have to say goodbye.
What's your biggest dream in life?
To be a marine biologist in Florida and solve the red tide problem.
How do you like spending your free time?
I like to spend my free time with my friends, my two dogs, and with my father watching Netflix.