Voices Ringing
Grace Simpson '24: Student of the Week November 17, 2023
November 17, 2023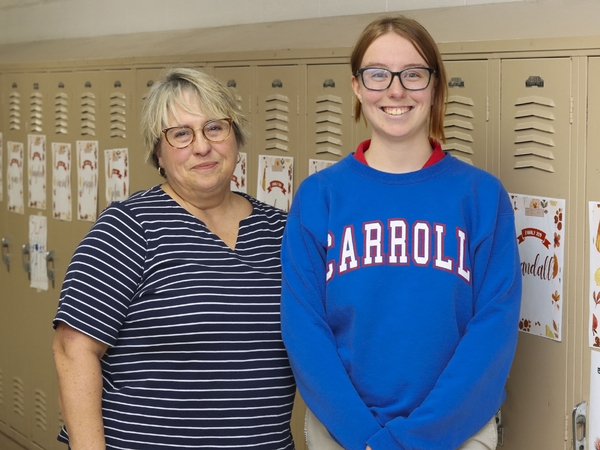 Grace Simpson '24, Gonzaga House and St. Luke School Alumna, with Mrs. Mary Ollier
Grace sat down with a fellow student who is new to Carroll and helped her navigate some important parts of our class, including logging into her textbook, finding the daily agenda, and completing and turning in assignments. Grace's kindness and compassion were a great example of our welcoming Patriot spirit!

-Mrs. Mary Ollier
Favorite Restaurant:
Olive Garden
Favorite Movie:
Nimona
Who would you like to play in a movie?
Nimona
Place you'd love to travel:
Colorado
Activities you participate in:
I am in marching band, sewing club, and Write-On.
What's your favorite part of being a student at Carroll?
My favorite part of being a student at Carroll is being in the band.
What should school "do" for you?
School should prepare me for life's challenges.
What's a lesson you learned when you overcame a difficult obstacle?
I learned that I can't let grief hold me back from doing things I need to do.
What's your biggest dream in life?
My biggest dream in life is to work in a greenhouse and study plants.
How do you like spending your free time?
I like to spend my free time reading and playing Dungeons & Dragons.