Voices Ringing
Class of 2023: Meet the Valedictorians and Salutatorians
May 18, 2023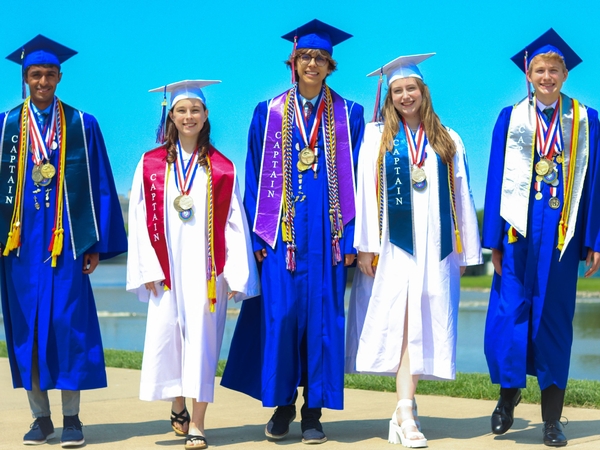 Earning the title of valedictorian or salutatorian is a remarkable accomplishment. Please join us in congratulating our top students in the Class of 2023 for their countless hours of dedication that they have dedicated to their studies.
Nathan Snizik, Valedictorian, Incarnation Catholic School
Nathan Snizik is the son of Maria (Chilia '88) and John Snizik. Nathan is the Technical Director of the Carroll Drama Club, a co-captain for Carroll's Cross Country and Track & Field teams, and an Eagle Scout. The highlights of his senior year have been leading his school's senior retreat, giving a TEDxYouth talk, making his onstage debut in his school's musical production of Back to the 80's, and passing the torch on to the next generation of Carroll Patriots. This fall, he plans to attend The Ohio State University and double major in Politics, Philosophy, and Economics (PPE) and English.
---
Seth Tivakaran, Valedictorian, St. Luke Catholic School
Seth Tivakaran is the son of Dr. Sheila Cheruvelil and Dr. Vijai Tivakaran. During high school, he has been Cross Country Team Captain, Track & Field Team Captain, Math Club Co-President, Spanish Club Co-President, National Honor Society Vice President, Spanish Honor Society Leader, and TSA TEAMS STEM Competition Team Captain. His greatest accomplishments have been participating in State Science Fairs, competing in State Cross Country and Track championships each year, and placing top 25 in the nation for TSA TEAMS. He will attend Case Western Reserve University to study Biology on the Pre-Medical track.
---
Jack Agnew, Salutatorian
Jack Agnew is the son of Christine and John ('80) Agnew. Jack has been president of Spanish Club, Math Club, and National Honor Society, and he has served as a captain of the Cross Country and Track & Field teams. He won the Division-II Cross Country State Championship in 2021 as a junior and led the team to a runner-up finish during his senior season. This year, Jack was voted prom king. Next year, he will attend The Ohio State University to study exercise science and compete in Cross Country and Track & Field. Following college, Jack hopes to become a sports oriented physical therapist and continue competing as a runner.
---
Grace Bete, Salutatorian
Grace Bete is the daughter of Lynn and Timothy Bete. Grace will attend The Ohio State University and major in Psychology, Spanish, and Vocal Performance. While at Carroll, Grace performed in five plays and four musicals, and her most notable roles were Jo March in Little Women: The Musical and the Dowager Empress in Anastasia. She was also student music director for Carroll's musicals her junior and senior year. Grace was captain of the track and field team, secretary of the International Thespian Society, House Captain, Spanish Club vice president, and has been Latin Club secretary and a member of the cross country team. Grace also earned the Ohio Seal of Biliteracy in Spanish.
---
Meredith Sanders, Salutatorian, St. Luke Catholic School
Meredith Sanders is the daughter of Dianne and Philip Sanders. Throughout high school, Meredith has been named a National Merit Scholarship Finalist, a USA Lacrosse Academic All-American, and a Presidential Scholar Candidate. She has participated in Lacrosse, Tennis, International Club, Math Club, Spanish Club, Spanish Honor Society, and National Honor Society, among other activities. She has also performed over 600 hours of community service throughout her 4 years of high school by volunteering through organizations such as 4 Paws for Ability and Best Friends Assisted Therapy. Next year, Meredith will attend the University of Notre Dame double majoring in Applied Computational Mathematics and Statistics and Psychology.