Voices Ringing
Cam Brown '23: Student of the Week March 7, 2023
March 07, 2023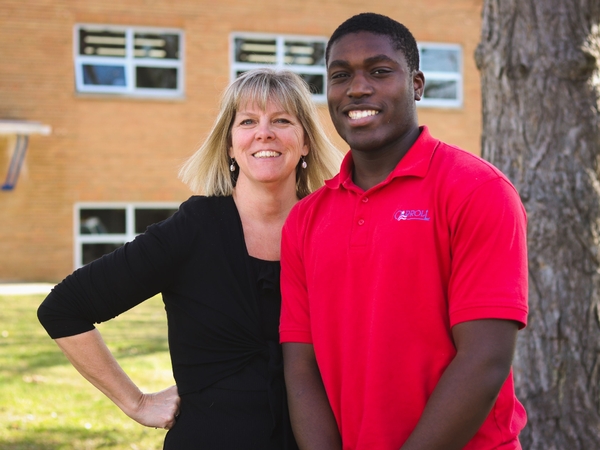 Cam Brown '23, Gonzaga House, with Mrs. Jill Kilby
Cameron leads by example. He has stepped up in leadership on a number of occasions, especially during PATS Retreats which he has led twice this school year. Cameron is kind and cares about people. He has a quick smile and a big heart. He is a great example of what a Carroll Patriot should be, and we are blessed to have him here.
What activities do you participate in?
I play lacrosse and run track here at Carroll.
What's your favorite part of being a student at Carroll?
My favorite part about being student at Carroll is the community. The teachers here are caring and understanding, and you can tell they really care about you.
What should school "do" for you?
I think school should be a place where you grow spiritually and mentally. It should be a place that nurtures and helps you grow.
What's a lesson you learned when you overcame a difficult obstacle?
The biggest lesson I have learned is to ask for help. When I first came to Carroll, the workload was a big adjustment, and I struggled but found that there's a community of people that want you to succeed. As a young man, it is hard to ask for help sometimes but there are always people there to help guide you.
What's your biggest dream in life?
My biggest dream in my life is to work in a career field I truly love and start a family someday.
How do you like spending your free time?
I enjoying hanging out with my friends, listening to music, and taking a nap when I can.