Voices Ringing
Anna Murray '24: Student of the Week August 31, 2022
August 31, 2022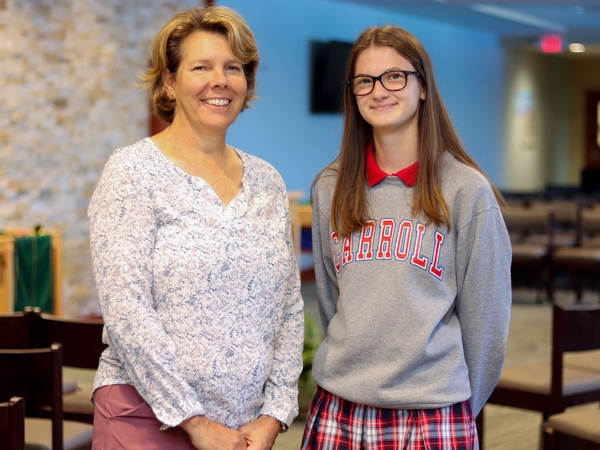 Anna Murray '24, Trinity House, with Mrs. Martha Saurine
Anna took her own time to come in for freshman orientation to help behind the scenes, and she also has volunteered to help with the Mass set up and take the time to learn all of the sound system procedures. Anna has been a great asset to Campus Ministry in these first few weeks.

-Mrs. Martha Saurine
What activities do you participate in?
I participate in Cross Country, Track, and Balloon Club.
What's your favorite part of being a student at Carroll?
My favorite part of being a student at Carroll is knowing I can talk to my teachers whenever I need help with anything.
What should school "do" for you?
School should help you grow and overcome difficulties in academics as well as your social life.
What's a lesson you learned when you overcame a difficult obstacle?
I learned to always keep trying no matter how many times I failed.
What's your biggest dream in life?
My biggest dream in life is to become an elementary school teacher and have a loving family.
How do you like spending your free time?
In my free time, I like to hang out with my friends and watch Netflix.