Voices Ringing
Carroll High School Blog
Posts Tagged "Class of 2020"
April 28, 2020
Paige Bey '20, Trinity House (Nominated by Mrs. Ashley Bowers)
"Paige always has a smile on her face and a positive attitude. I don't know if you've seen that video of our seniors going around social media, but I guess that was all Paige and that
was a class act!"

-Mrs. Ashley (Dunham) Bowers '14
What activities do you participate in?
Head wrestling stat, volleyball, and Army National Guard
What's your favorite art of being a student at Carroll?
My favorite part about Carroll is how supportive all the teachers are. They go above and beyond with their jobs, treat you like one of their own kids, and are always lending a hand out to anyone.
What should school "do" for you?
School is a place where your education should come first but also a place where you should feel welcomed and embraced by others.
What's a lesson you learned when you overcame a difficult obstacle?
I have learned when it comes to overcoming difficult things, that hardships pass. They don't last forever. Also, I learned you have to surround yourself with the right people. It may take some time to figure out who they are, but if you do, they will help you get through the hard things that come.
What's your biggest dream in life?
My biggest dream in life is honestly to be happy, being stable and having a family.
How do you like spending your free time?
Being around people I love. I like spending my free time with mostly my friends. That could just be hanging out or going out.
April 21, 2020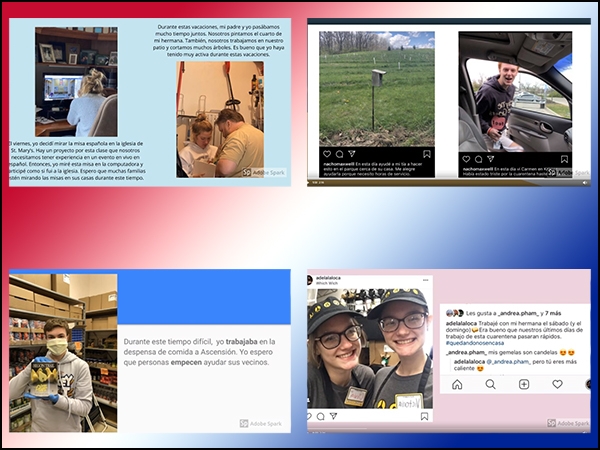 So many Carroll students spent time during their Spring Break finding creative, new ways to help others and to celebrate Easter while in quarantine. Our students are truly one-of-a-kind in serving others, being generous and thoughtful, and finding ways to express their faith and keep the spirit of Easter in their hearts from their homes. I love our Carroll students and community and consider it a true blessing to minister here. Some of my students shared their Spring Break activities with me:
Drew Maxwell '21: helping his aunt at a local park
Maggie Ollier '21: delivering food & Easter baskets to friends
Sam Reichman '21: volunteering at Ascension Church
All of Logan Druck's (Class of 2021) friends making her birthday special
Josie Eckhart '22: remembering the Passion of Christ on Good Friday & playing Scrabble with the Mysteries of the Passion.
Ryan Seltsam '21: watching a virtual Easter Mass
Noah Lehman '21: taking Communion "to go" with his family from his church
Victoria and Olivia Bartlett '20: putting in hours as essential workers at their job to provide food
Angel Ramirez '20: going grocery shopping for his grandmother
Jill Roberts '20: watching Good Friday's service from St. Mary's in Spanish online
Recent Posts
Archives