Voices Ringing
Carroll High School Blog
Posts Tagged "Baltimore House"
May 17, 2022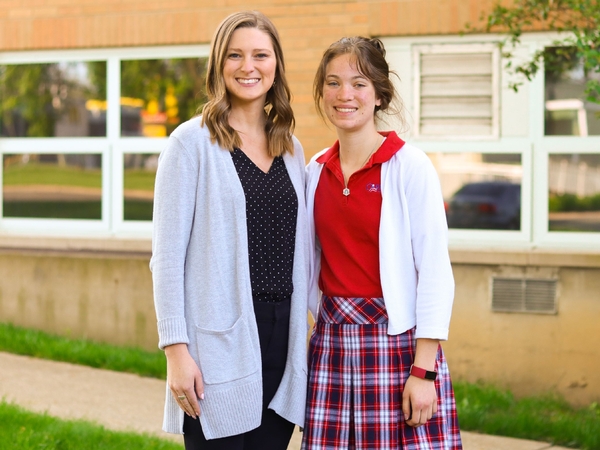 Hope Danis, Baltimore House, with Mrs. Liz Emser
Hope is sweet, kind, and cares so deeply about everyone around her. She reaches out a helping hand before she is ever asked to do so. She is curious and inquisitive in her studies and works extremely hard to achieve success. Hope is a model Carroll Patriot, and I have no doubt that she will continue to lead with integrity and sincerity throughout her years at Carroll.

-Mrs. Liz Emser
What activities do you participate in?
I am a member of the Cross Country and Track & Field teams, Drama Club, and Mass Choir
What's your favorite part of being a student at Carroll?
My favorite part of Carroll is the teachers. They have made me feel completely welcome and at home in Carroll High School in addition to teaching me some of the most vital information of my life: how to deal with other students.
What should school "do" for you?
I think that school should provide for you a foundation to join the world, and an atmosphere that encourages you to choose good and right rather than easy.
What's a lesson you learned when you overcame a difficult obstacle?
I have learned throughout this year that everything does not have to work and fit perfectly. You simply need to be striving for the best outcome because that is all you can control.
What's your biggest dream in life?
I don't really know what I want to do with my life yet. In second grade, we had to make a book, and I said I wanted to be a mother of 11 kids. My teacher in all her wisdom said try one first. I'm still not really sure what I want to do, but I hope to learn what God wants for me in my time here at Carroll.
How do you like spending your free time?
I know that this is cheesy and overused but my favorite way to spend my time is with my family. I really can't imagine a better day than doing anything with my family.
Recent Posts
Archives