Voices Ringing
Patchwork of Memories: A Graduation Gift to Carroll Theater Director
May 15, 2023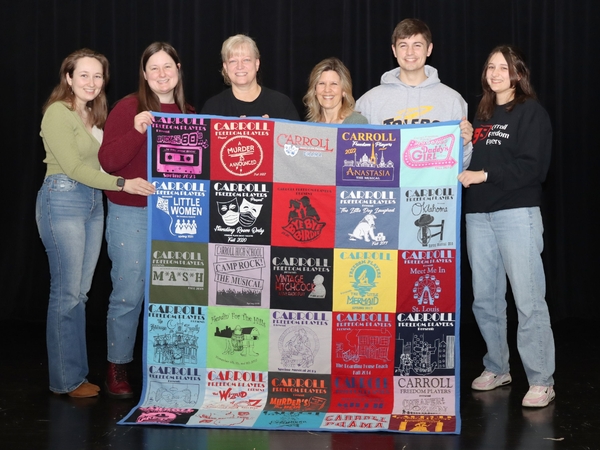 Quilts sewn from scraps of t-shirts are common gifts to high school graduates, but one Archbishop Carroll High School family made one for an educator who has impacted their lives for more than a decade on and off of the Carroll stage.
The Schlegel family has been part of every Freedom Players production since the fall of 2010 – 26 shows under the direction of Toni (Hemmert) Weitz '86. When Anna Schlegel '14 made her debut on stage in Pollyanna, her mother Tina helped out by selling tickets and flowers, hosting cast parties, and volunteering at youth summer camps for the drama club for 13 years until her youngest daughter, Tess '23, would end the Schlegels' run on the Carroll stage this spring. Moments before Tess's last performance in the 2023 spring musical Back to the 80s, she presented a quilt to Toni with all of the shows that involved this generation of Schlegel performers and crew members, a quilt handmade by Tina. Many other students and families who have been part of the drama club contributed to the project to help thank Toni for her dedication to the program.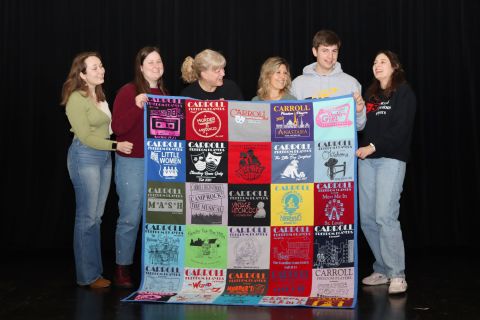 "I was very surprised," Toni said. "I've seen these blankets being made for kids over the years, and to see how it holds all those special memories. To be given that as an adult for a club that is so important to me from a family that is so important to me, it was just really touching. Knowing that other students donated to do this for me makes it even more special."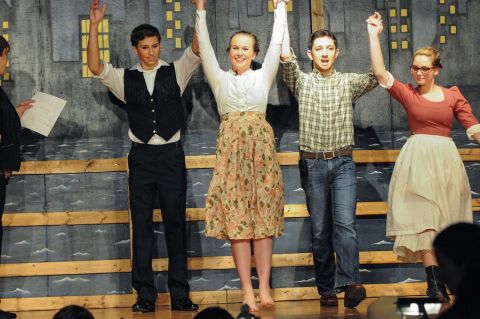 Anna, Nick '15, Maria '18, Sam '21, and Tess all can recall countless memories from rehearsal and performances, both on stage and behind the scenes, that the blanket symbolizes. Backstage traditions and small behind the scenes moments remain with Anna. Nick can recall the view of watching the show from the sound board. Maria enjoyed making the leap from stage crew in the fall to shining under the lights in spring each year. Sam looked forward to Toni's inspirational speeches in the greenroom before every performance. Like her oldest sister, Tess loved the little moments behind the curtain during the shows. For Tina and her husband Dave '88, the theater program at Carroll became like a second family to all of the Schlegels.
"One of the gifts of this program is the bond between Toni and the kids and also between the friendships that they form through these activities," Tina said. "I always thought this activity was like high school sporting events. If they're on the volleyball team, you go to every volleyball game. If they're in a show, you go to every performance, and if you're here, you might as well help out."
Toni also counts the Schlegels as an extension of her family at Carroll.
"It's really neat when I have a family where all of the kids are involved in the way that the Schlegels have been. There are only a handful of families like that, and five kids is probably the most. It's just really special to be able to share those moments with all of them and their parents and see the parents that I know I can count on, like Tina and Dave, to do the cast party. It's great to have families I can count on and to watch the kids grow with my own kids."