Voices Ringing
Chalsie Fedkow '23: Student of the Week March 16, 2023
March 16, 2023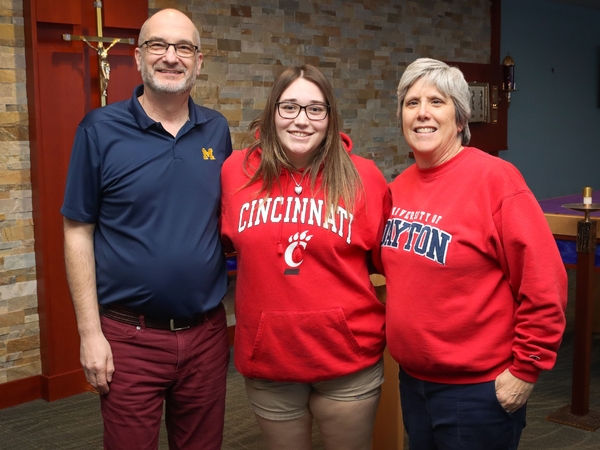 Chalsie Fedkow '23, Trinity House & St. Helen School Alumna, with Mr. Jim Murray and Mrs. Melissa (Balsom) Fisher '83
Chalsie is a Trinity Captain and has led the Family Room very well – she plans well and executes those plans to her fullest. Chalsie also has a Cricut and has made many things this year for Trinity House. She would not accept money and did it for service hours. She made posters for the Trinity Cheer in the fall as well as t-shirts and coasters for Christmas presents for the Trinity faculty and staff.

-Mrs. Melissa (Balsom) Fisher '83

What activities do you participate in?
I am a Captain for Trinity House.
What's your favorite part of being a student at Carroll?
My favorite part of being a Carroll student is being able to be a Captain for Trinity House, show other students the Carroll spirit, and inspire them to be there best during their Carroll experience. The whole community here at Archbishop Carroll High School is a blessing to me.
What should school "do" for you?
What I think school should do for me is make sure everyone here feels welcomed at all times and prepare me for my future in life and education.
What's a lesson you learned when you overcame a difficult obstacle?
The end of my junior year here at Carroll was a very difficult obstacle for me because I was stressed out a lot with worry about my next step of my high school career. It's a big step in our life, but the teachers and counselors here at Carroll helped calmed me down and showed me what each step was like for college. I was very worried to apply to my dream college, but they told me not to worry because Carroll prepares you very well and can help you get into all of your dream colleges if you strive for it. So, the start of my senior year here at Carroll was not overwhelming because I was accepted into my dream college thanks to the faculty here at Carroll.
What's your biggest dream in life?
My biggest dream in life is to attend Sinclair Community College and get a bachelor's degree in interior design, then move on to finding a job as an interior designer.