Alumni Patriot Voices Ringing
Miriam Cleary '11: Client Specialist at Baird
April 15, 2021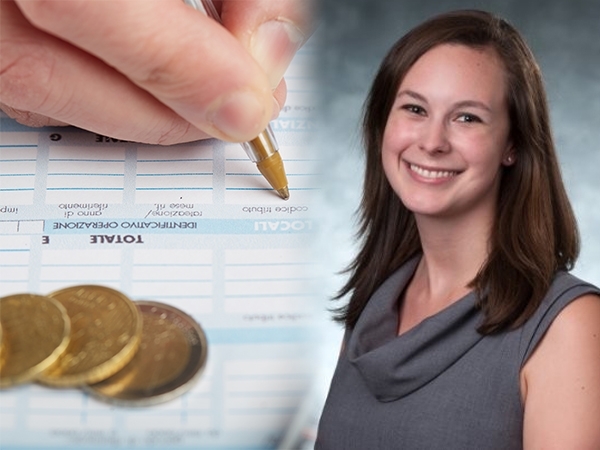 Sorting through Tax Season: Meet Miriam Cleary '11
Miriam Cleary '11 is a Client Specialist at Baird to two financial advisors on a wealth management team in Cincinnati. She recently spoke with us about how the COVID-19 pandemic has changed the way she works and how Carroll prepared her for success after high school.
What are some of your responsibilities on a typical day?
"I am in charge of client interactions, facilitating transactions when people need money or talk about distributions from different accounts and trades. I'm also working on my certified financial planner license. I do all the planning for our team for a realm of possibilities for our clients. My day-to-day is making sure our clients have the best experience possible, especially during tax season, because it can get really complicated with all the forms and different days they're due. It's really nice to have those relationships with my clients established before I have to talk to them about what they actually have to pay for their taxes."
When does tax season start, and how does it affect what you do?
"We provide the forms for the accounts if there is interest paid or retail accounts where there are distributions from qualified accounts. We started issuing tax forms at the beginning of February because people are always anxious to get their tax forms in. Usually, things really start to speed up in mid-March. Because a lot of people do their taxes online or because of the pandemic, they just email everything to their tax person. It's much easier than having to worry about when we're going to get them in the mail. After April 15, we go back to our day-to-day business like client meetings."
How has the pandemic changed how you work?
"Our clients are used to meeting with us once, maybe twice a year. Having to transition from face-to-face meetings in our office to being either on Zoom or on a conference call. That interaction with us, especially with our older clients, is very important, and it's very important to us as well because we want to keep that relationship established. I now have an office set up in my home. [Baird] has been great about getting all of us access and keeping the internet and network up to speed, but we can't print [financial documents] at home because of the confidentiality, so getting those things to clients has been a challenge.
Our clients can't go out of their homes as much as they could, so we've talked to people more and more. That's been helpful to me because I've been able to re-establish some relationships and talk to people about things other than their investments."
How did Carroll help prepare you for college and career?
"I graduated from college with a degree in foreign language and international studies and a minor in anthropology, and I work in finance. People don't understand how that happened, and sometimes, I'm not sure either. Carroll made us work hard. I'm glad I was constantly challenged either Mrs. [Mary Jane] Clark, or Mr. [Jim] Hemmert; all the challenges they threw at us and the sense of responsibility they instilled in us to succeed and help others. When I got to college, I already knew how to study because of Study Skills my freshman year. I knew it would be harder, and I had to learn to rededicate my time because the level and amount of work was different, but Carroll made it much easier for me because I was much more established in my study habits. I already knew what I needed to do, and that transformed into a better experience altogether. My parents thought it was the most important thing for us to get that education because they knew that it would set us up down the line, and it has."
What is your advice to current students?
"Remember what you do enjoy about your job, even if it's something that you may not think you would ever get into, you can try to find something good about having that career. Be open to those dynamics and understanding that you may not always be right, but that's how you grow as a person. Carroll taught me that, and it was expounded on when I got to college."

To receive online copies of Patriot Connections Online newsletters or email announcements about upcoming events, please contact jweitz@carrollhs.org if you are not currently receiving these newsletters.