Archbishop Carroll High School earns top Ohio STEM award for third time in five years
September 08, 2022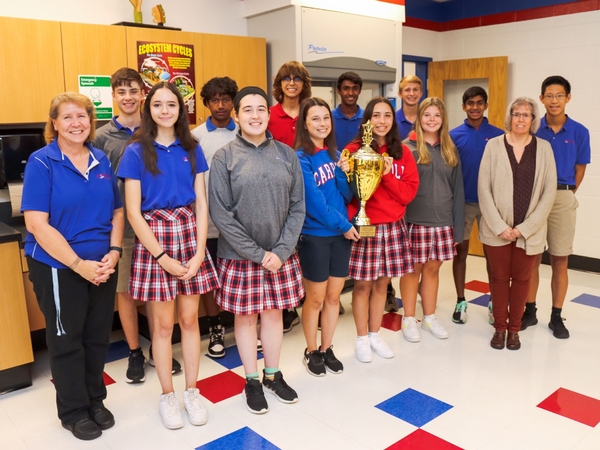 For the third time since 2018, The Ohio Academy of Science awarded Archbishop Carroll High School the Harold C. Shaw Memorial Award, its most prestigious honor for student success at State Science Day.
Archbishop Carroll High School's group of 17 students presented independent STEM research projects at State Science Day as part of a virtual event for the second year in a row. Schools must send at least four students to present research, and 80% of those projects must earn the highest possible rating of Superior. All other projects must score at least an Excellent rating, and all students who register for the event must present his/her research. 14 Patriots earned Superior ratings, and three earned Excellent ratings for their projects. Carroll students also combined to win 22 special awards which include several scholarships and cash prizes.
"Earning the Shaw Award is a huge accomplishment for our students and their teachers. It is an honor to be recognized by a state-wide organization for the outstanding work these folks do year-in and year-out, Inquiry-based learning and research are fundamental to an education at Archbishop Carroll High School; especially in the STEM curriculum. This award is a recognition of that commitment and we could not be more proud!"
Only seven other schools across Ohio earned the Shaw Award, but Carroll's group of 17 students more than doubled the number of students that represented the next closest school at seven participants. According to the Ohio Academy of Science, more than 1,000 Ohio students participated in the 2022 State Science Day.