Alumni Patriot Voices Ringing
Maureen (Burns) Zappala '79: Top 8 World Finalist for Public Speaking Contest
September 02, 2020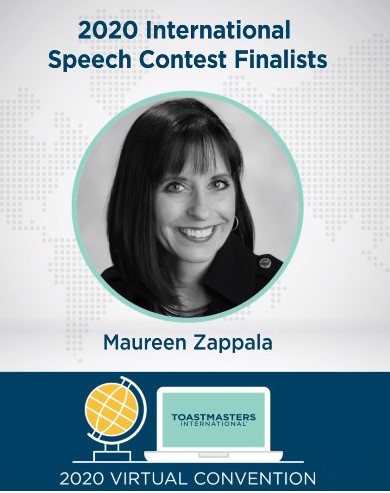 Maureen (Burns) Zappala, Carroll High School Class of 1979, competed in the 2020 finals of the Toastmasters International World Championship of Public Speaking Contest on August 29. She was in the top eight of about 30,000 contestants worldwide.
Each year, thousands of Toastmasters, representing over 100 countries, battle for the title of World Champion of Public Speaking. This months-long competition culminated at the 2020 Virtual Convention as the 28 semifinalists competed for a title that transforms lives.
How it Works
The World Championship of Public Speaking® starts in Toastmasters clubs across the globe. From there, participants advance to Area, Division, District, and region-level competitions. Two winners from each region-level competition move on to the semifinals. At the semifinals, an expert panel of experienced Toastmasters will determine the eight finalists. Each speech lasts between five to seven minutes. For many amateur speakers, this competition is the opportunity of a lifetime. Past winners have used this accolade to become prominent paid speakers, delivering keynotes and speeches around the globe.
For more information and to listen to Maureen's speech, go here. Maureen is speaker #6 which is about 47:30 on the video. It has special significance to Carroll's Class of 1979 since Maureen tells a story about one of the 1979 classmates.

To receive online copies of Patriot Connections Online newsletters or email announcements about upcoming events, please contact jweitz@carrollhs.org if you are not currently receiving these newsletters.