Voices Ringing
Student of the Week Anh Le '24, March 28, 2023
March 28, 2023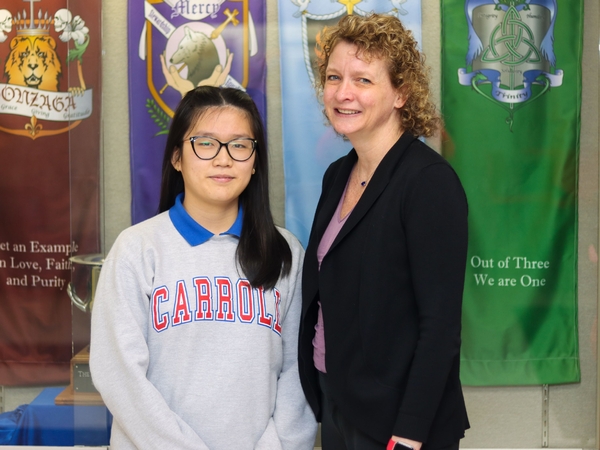 Anh Le '24, Charity House, with Mrs. Nicole Druck
Ahn Le is in her first year here from Vietnam and has tackled the challenge coming to a new school. Anh has made an amazing effort to make new friends and be engaged, and she works very hard in her classes while also learning what life is like being an "American teen". Anh has also shared traditions from Vietnam such as how her family celebrated their Vietnamese New Year.

-Mrs. Nicole Druck
What activities do you participate in?
I am involved in the International Club and the Spanish Club. I really enjoyed the time doing activities with friends in the clubs. Besides, the field trips of the International Club give me chances to make new friends and enjoy the time with them. The activity I like the most is skating with the International Club.
What's your favorite part of being a student at Carroll?
As a student at Carroll, I feel very happy to participate in many activities which are organized by the school. My favorite activities are House Events because they help me to connect with other friends in my House. House Events help me develop skills to work with other friends and bring us closer to each other.
What should school "do" for you?
School is great now because because it is meeting all my needs. The other students are friendly and nice to me. My teachers help me a lot with any assignments, and they always answer my questions about anything.
What's a lesson you learned when you overcame a difficult obstacle?
A lesson I learned when I overcame a difficult obstacle was that I can rest when I feel too tired to do something, but I must not stop completely.
What's your biggest dream in life?
My biggest dream in life is to work a job I like, have a happy life, and have more time to take care of my parents.