Voices Ringing
Student of the Week: Tami James '23
November 10, 2021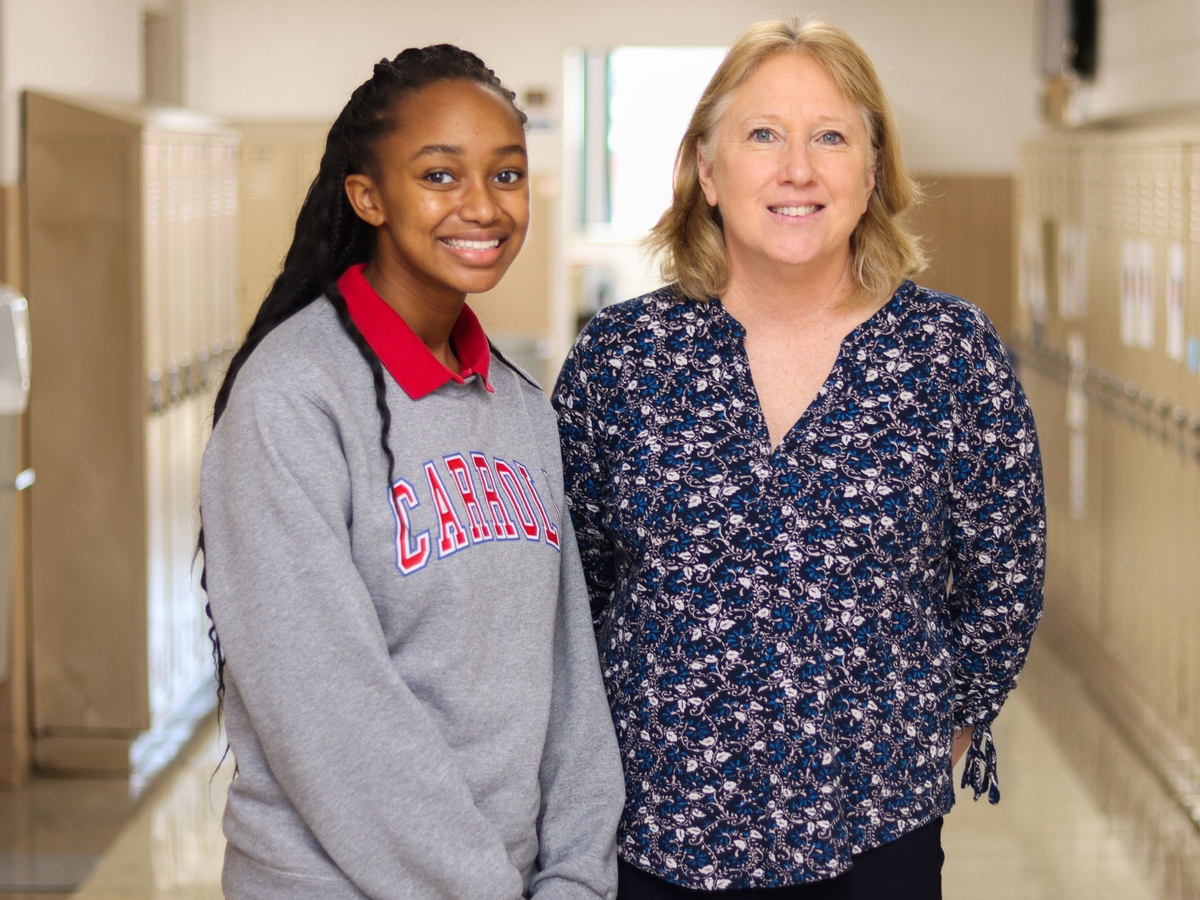 Tami James '23, St. Mary's House, with Mrs. Cecelia Grosselin
Tami knows what it means to take responsibility for her education in order to be successful in class. Despite a busy schedule of activities, Tami always structures her time so she can come in before or after school for extra help. Tami knows she must take the initiative to ask for assistance in order to understand new concepts, review notes, or go over homework problems she missed.

-Mrs. Cecelia Grosselin
What activities do you participate in?
In school, I participate in Carroll Football and Basketball Cheer, Carroll Girl Scout Troop, and the Carroll Drama Club. Outside of school, I participate in Dayton Academy of Gymnastics - All-Star Cheer.
What's your favorite part of being a student at Carroll?
One of my favorite parts of being a student at Carroll is the House System. I am blessed with an amazing Family Room. Another one of my favorite parts is being able to cheer at the football and basketball games. It's a great way of getting involved in the Carroll spirit, and it's a great way to see everyone.
What should school "do" for you?
I believe a school should genuinely care about their students' education. The school should also create a close and caring community amongst the students, faculty, and community.
What's a lesson you learned when you overcame a difficult obstacle?
I learned that there is no shame in asking for help when you need it. It just shows that you care for your own educational gain, and it can even help you create a closer bond to your teachers. I also learned that not everything and everyone is perfect. Someone sitting right next to you may be struggling just like you, and by taking the time to ask your question, you may have just helped them realize that they're not alone, and bonds are made.
What's your biggest dream in life?
My biggest dream is to go to The Cheerleading Worlds competition, and win the whole Worlds competition.
How do you like spending your free time?
I love going to live performing arts shows (plays, musicals, dance exhibitions, etc). I especially LOVE going to watch ballets - my favorites are The Nutcracker and Swan Lake.