Voices Ringing
Carroll High School Blog
Posts Tagged "Emily Walls"
November 20, 2019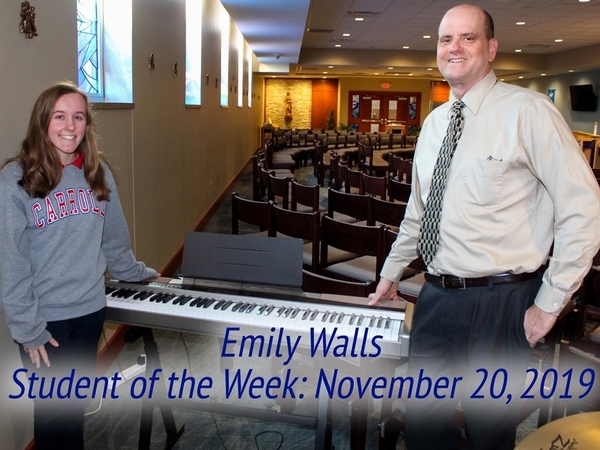 Emily Walls '22 with Mr. Dennis Brun '85
Emily Walls '22 Mercy House
What activities do you participate in?
Volleyball, Jazz Band, Mass Choir, Balloon Club, Spanish Club, Cooking Club, and Drama Club
What is your favorite part of being a student at Carroll?
I like how there's so many different clubs and activities that you can get involved with at Carroll.

What should school "do" for you?
School should teach you how to be responsible and how to manage your time to help you succeed in the future.

What's a lesson you learned when you overcame a difficult obstacle?
I learned how to persevere, try my hardest, and never give up when something seems impossible.

What's your biggest dream in life?
My biggest dream is either become a piano teacher or English teacher.

How do you like spending your free time?
I like playing piano at Mass, playing volleyball, or hanging out with my friends during my free time.
"I would like to nominate Emily Walls for her role in our liturgical choir. She gives of herself to be at practices, and she helped out on a weekend to play for the alumni mass, as well. She's an outstanding musician and is very easy to work with. I know she's also very busy with volleyball in the fall, so I really appreciate her commitment to helping lead our student body in prayer." - Mr. Dennis Brun '85
Recent Posts
Archives