Voices Ringing
Carroll High School Blog
Posts Tagged "Graduation"
May 18, 2023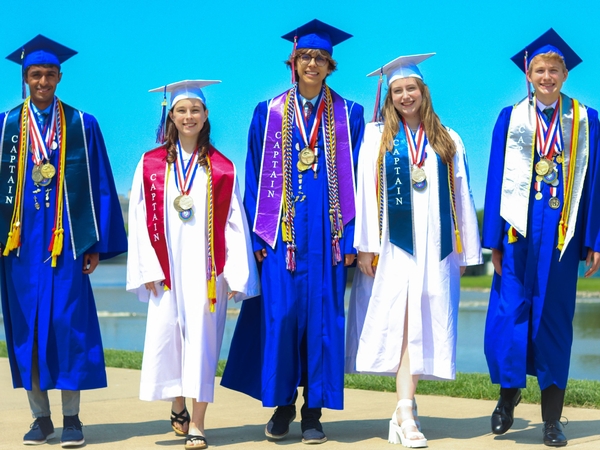 Earning the title of valedictorian or salutatorian is a remarkable accomplishment. Please join us in congratulating our top students in the Class of 2023 for their countless hours of dedication that they have dedicated to their studies.
Nathan Snizik, Valedictorian, Incarnation Catholic School
Nathan Snizik is the son of Maria (Chilia '88) and John Snizik. Nathan is the Technical Director of the Carroll Drama Club, a co-captain for Carroll's Cross Country and Track & Field teams, and an Eagle Scout. The highlights of his senior year have been leading his school's senior retreat, giving a TEDxYouth talk, making his onstage debut in his school's musical production of Back to the 80's, and passing the torch on to the next generation of Carroll Patriots. This fall, he plans to attend The Ohio State University and double major in Politics, Philosophy, and Economics (PPE) and English.
---
Seth Tivakaran, Valedictorian, St. Luke Catholic School
Seth Tivakaran is the son of Dr. Sheila Cheruvelil and Dr. Vijai Tivakaran. During high school, he has been Cross Country Team Captain, Track & Field Team Captain, Math Club Co-President, Spanish Club Co-President, National Honor Society Vice President, Spanish Honor Society Leader, and TSA TEAMS STEM Competition Team Captain. His greatest accomplishments have been participating in State Science Fairs, competing in State Cross Country and Track championships each year, and placing top 25 in the nation for TSA TEAMS. He will attend Case Western Reserve University to study Biology on the Pre-Medical track.
---
Jack Agnew, Salutatorian
Jack Agnew is the son of Christine and John ('80) Agnew. Jack has been president of Spanish Club, Math Club, and National Honor Society, and he has served as a captain of the Cross Country and Track & Field teams. He won the Division-II Cross Country State Championship in 2021 as a junior and led the team to a runner-up finish during his senior season. This year, Jack was voted prom king. Next year, he will attend The Ohio State University to study exercise science and compete in Cross Country and Track & Field. Following college, Jack hopes to become a sports oriented physical therapist and continue competing as a runner.
---
Grace Bete, Salutatorian
Grace Bete is the daughter of Lynn and Timothy Bete. Grace will attend The Ohio State University and major in Psychology, Spanish, and Vocal Performance. While at Carroll, Grace performed in five plays and four musicals, and her most notable roles were Jo March in Little Women: The Musical and the Dowager Empress in Anastasia. She was also student music director for Carroll's musicals her junior and senior year. Grace was captain of the track and field team, secretary of the International Thespian Society, House Captain, Spanish Club vice president, and has been Latin Club secretary and a member of the cross country team. Grace also earned the Ohio Seal of Biliteracy in Spanish.
---
Meredith Sanders, Salutatorian, St. Luke Catholic School
Meredith Sanders is the daughter of Dianne and Philip Sanders. Throughout high school, Meredith has been named a National Merit Scholarship Finalist, a USA Lacrosse Academic All-American, and a Presidential Scholar Candidate. She has participated in Lacrosse, Tennis, International Club, Math Club, Spanish Club, Spanish Honor Society, and National Honor Society, among other activities. She has also performed over 600 hours of community service throughout her 4 years of high school by volunteering through organizations such as 4 Paws for Ability and Best Friends Assisted Therapy. Next year, Meredith will attend the University of Notre Dame double majoring in Applied Computational Mathematics and Statistics and Psychology.
May 15, 2023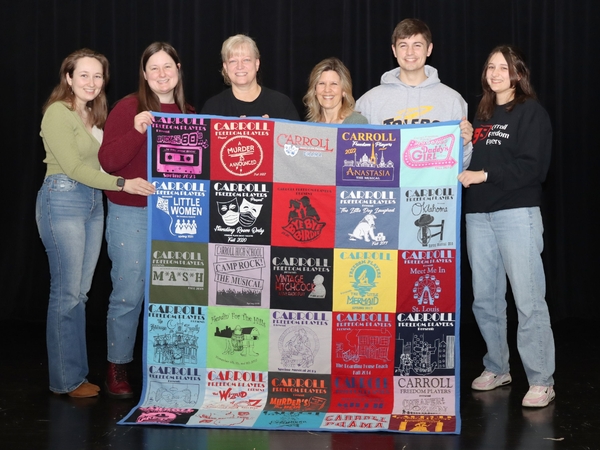 Quilts sewn from scraps of t-shirts are common gifts to high school graduates, but one Archbishop Carroll High School family made one for an educator who has impacted their lives for more than a decade on and off of the Carroll stage.
The Schlegel family has been part of every Freedom Players production since the fall of 2010 – 26 shows under the direction of Toni (Hemmert) Weitz '86. When Anna Schlegel '14 made her debut on stage in Pollyanna, her mother Tina helped out by selling tickets and flowers, hosting cast parties, and volunteering at youth summer camps for the drama club for 13 years until her youngest daughter, Tess '23, would end the Schlegels' run on the Carroll stage this spring. Moments before Tess's last performance in the 2023 spring musical Back to the 80s, she presented a quilt to Toni with all of the shows that involved this generation of Schlegel performers and crew members, a quilt handmade by Tina. Many other students and families who have been part of the drama club contributed to the project to help thank Toni for her dedication to the program.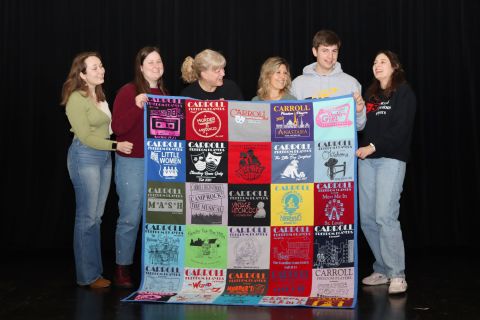 "I was very surprised," Toni said. "I've seen these blankets being made for kids over the years, and to see how it holds all those special memories. To be given that as an adult for a club that is so important to me from a family that is so important to me, it was just really touching. Knowing that other students donated to do this for me makes it even more special."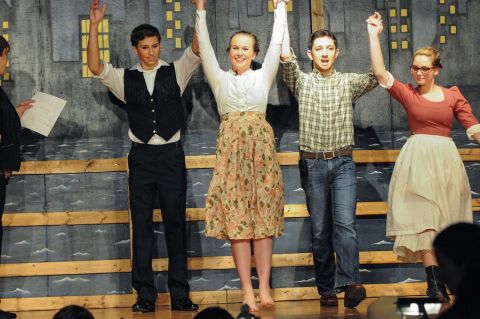 Anna, Nick '15, Maria '18, Sam '21, and Tess all can recall countless memories from rehearsal and performances, both on stage and behind the scenes, that the blanket symbolizes. Backstage traditions and small behind the scenes moments remain with Anna. Nick can recall the view of watching the show from the sound board. Maria enjoyed making the leap from stage crew in the fall to shining under the lights in spring each year. Sam looked forward to Toni's inspirational speeches in the greenroom before every performance. Like her oldest sister, Tess loved the little moments behind the curtain during the shows. For Tina and her husband Dave '88, the theater program at Carroll became like a second family to all of the Schlegels.
"One of the gifts of this program is the bond between Toni and the kids and also between the friendships that they form through these activities," Tina said. "I always thought this activity was like high school sporting events. If they're on the volleyball team, you go to every volleyball game. If they're in a show, you go to every performance, and if you're here, you might as well help out."
Toni also counts the Schlegels as an extension of her family at Carroll.
"It's really neat when I have a family where all of the kids are involved in the way that the Schlegels have been. There are only a handful of families like that, and five kids is probably the most. It's just really special to be able to share those moments with all of them and their parents and see the parents that I know I can count on, like Tina and Dave, to do the cast party. It's great to have families I can count on and to watch the kids grow with my own kids."

May 03, 2023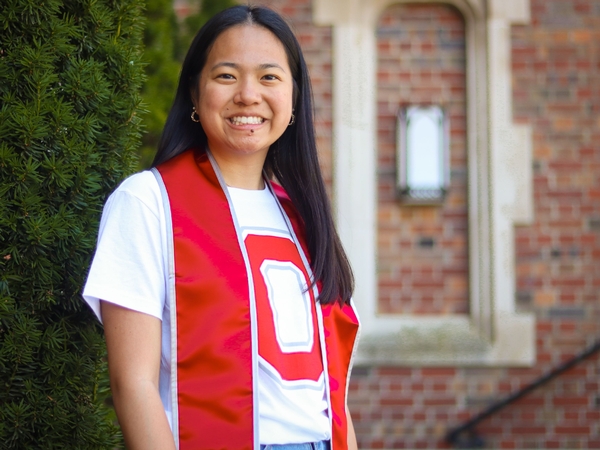 Ally Gozum '19 has always dreamed of a career working in entertainment. When she graduates from The Ohio State University on May 7, that dream will come true thanks to an educational experience that began her senior year at Archbishop Carroll High School and went viral during her senior year in Columbus.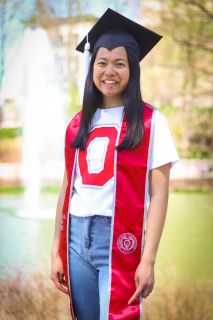 Throughout her final year as a Buckeye, Gozum has interned for the university's communications and public relations team. Her biggest and most visible task has been imagining and producing original content for the university's Instagram and TikTok profiles. Each post starts as an idea in a brainstorming session with the four member team of full time university employees who manage the accounts. Once the team approves an idea, Gozum creates the post without much further input. Sharing campus life with more than 500,000 followers has been a rewarding and educational experience.
"It feels unreal," Gozum said. "It's opened my eyes to the world of social media, and I've learned a lot about it. I love going to Ohio State, so I love being part of this team and advocating for a school that I'm really passionate about."
Her experience running a social media account started with a much smaller audience in the fall of 2018. As the Communications Captain for Mercy House, Gozum first learned how to create and schedule content for social media. The skills she learned at Carroll enabled her to grow at Ohio State.
Carroll helped me so much as being a great foundation for all of my college classes. I had to take Spanish here for a few credits, and those classes at Carroll really prepared me.
"We talk about our content strategies and planning, so it's really cool being able to apply the knowledge I learned at Carroll into this job."
Gozum also spent the summer before her senior year at Ohio State interning for a global public relations firm in her hometown of Chicago. Working with influencers to promote consumer good brands like Ninja, Shark, and Whirlpool all while networking created a portfolio of demonstrated skills to strengthen her resumé for her job search.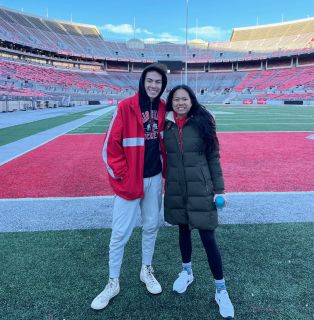 Although she is preparing to sign out of the Ohio State account one last time, Gozum has already accepted a spot in NBC Universal's west coast Page program after rounds of interviews and collaborating with other job candidates to design a marketing campaign. She will rotate through programs in public relations, marketing, and communications to help promote NBC Universal's scripted television shows and feature films. As she moves west to begin her career, Gozum credits Carroll with laying a foundation for her success.
"Carroll helped me so much as being a great foundation for all of my college classes. I had to take Spanish here for a few credits, and those classes at Carroll really prepared me."
Recent Posts
Archives