Voices Ringing
Student of the Week: Zack Davis '22
October 01, 2019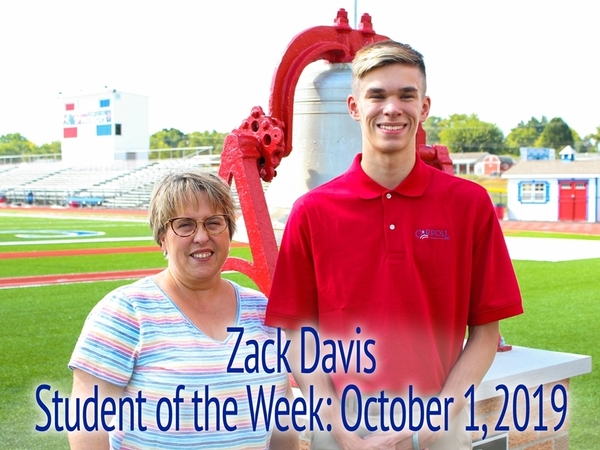 Zack Davis '22 with Mrs. Mary Ollier
Zack Davis '22, Trinity House
What activities do you participate in?
Volleyball

What's your favorite part of being a student at Carroll?
The preparation I am receiving for college.

What Should school "do" for you?
School should help prepare me for college.

What's a lesson you learned when you overcame a difficult obstacle?
I've learned how to make friends by moving through different schools.

What's your biggest dream in life?
To have a well-paying job in a career I love.

How do you like spending your free time?
I like spending time with my friends.
"Zack Davis is in my Scholarship Algebra II/Trigonometry class. He took the time to help two new exchange students last week who both landed in that same class and sit behind him. Zack worked with both boys in class on a couple different occasions to be sure they understood how to log into their textbook and the other websites we use for our class. And besides that, he is a really nice and kind person." - Mrs. Mary Ollier