Voices Ringing
Student of the Week: Camdyn Marsh '20
September 18, 2019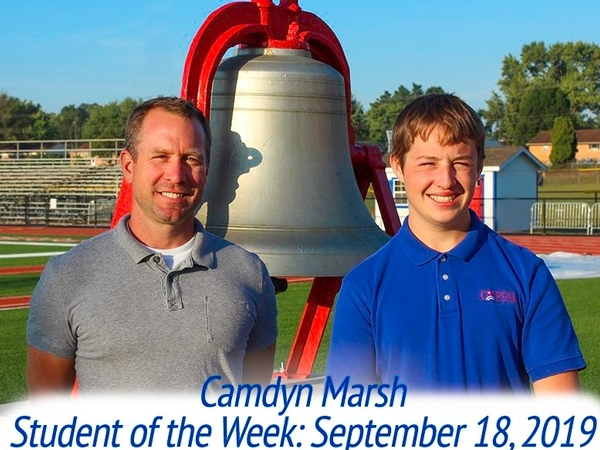 Mr. Carl Soucek and Camdyn Marsh '20
Camdyn Marsh '20, Gonzaga House

What activities do you participate in?
Marching Band, Gonzaga House Captain, Frisbee Club

What is your favorite part of being a student at Carroll?
I enjoy how friendly everyone is. It feels easy to start a conversation with anyone.

What should school "do" for you?
It should provide you with a good base of knowledge to continue into higher education. Additionally, it should help you find friends and groups of friends.

What's a lesson you learned when you overcame a difficult obstacle?
A good lesson I learned after joining band was that things are never as bad as they seem. Even if things are difficult at the time, you still get to reap the rewards later.

What's your biggest dream in life?
My biggest dream is to be a professional video game player, but if that doesn't work out, I want to be a physical therapist.

How do you like spending your free time?
I spend my free time playing video games, practicing mellophone, watching movies, hanging out with my friends, and planning activities for my Family Room.

"Camdyn is a tremendous student. He has taken on the role of brass captain for the Marching Patriots this year and always sets a great example for other students. He's punctual, professional, and positive in his approach to what we do. He shows other students that he cares about their success, and he offers to help when others are in need." - Mr. Carl Soucek