Voices Ringing
Student of the Week Caleb Weitz '26: October 7, 2022
October 07, 2022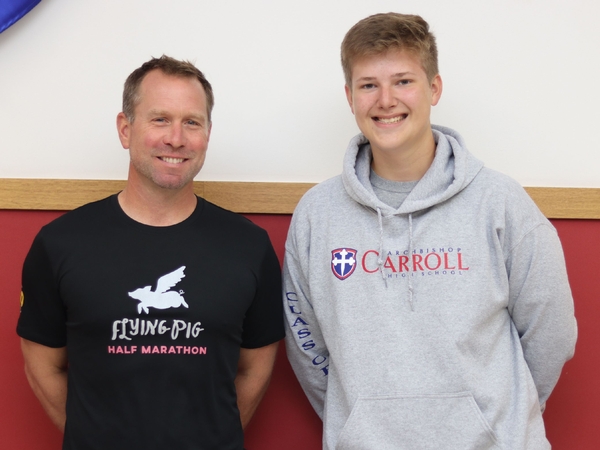 Caleb is a freshman this year, but due to his prior involvement in the Marching Patriots, he already possesses tremendous leadership skills. He's punctual beyond expectation and always stays around to help organize equipment. Caleb leads with a smile and encourages new members to be their best.

-Mr. Carl Soucek
Caleb Weitz '26, Trinity House, with Mr. Carl Soucek
What activities do you participate in?
I participate in Marching Band, Drama Club, Stage Crew, and Mass Choir. I also plan to run for Student Council.
What's your favorite part of being a student at Carroll?
My favorite part of being a Carroll student is all of the people there are so kind and helpful. I feel very comfortable with the Carroll family, and Carroll feels like a second home to me.
What should school "do" for you?
I believe that the purpose of school is to prepare me for college and all of the obstacles that I have ahead of me. Carroll is a great school and so far I am confident that Carroll is achieving just that.
What's a lesson you learned when you overcame a difficult obstacle?
One thing that I have learned from being a Carroll student is how to deal with time management. I have to balance activities with schoolwork. Being a section leader in Marching Band, participating in Drama Club, finishing homework, and all of the other things that I do is tough to achieve. I have learned to work it out and still achieve my goals.
What's your biggest dream in life?
My biggest dream in life is to get good grades, go to college to get a good job, and stay happy through it all.
How do you like spending your free time?
In my free time, I enjoy playing board games, watching movies, playing soccer, spending time outside, and playing music.