Voices Ringing
Sophia Sassenberg '26: Student of the Week February 17, 2023
February 17, 2023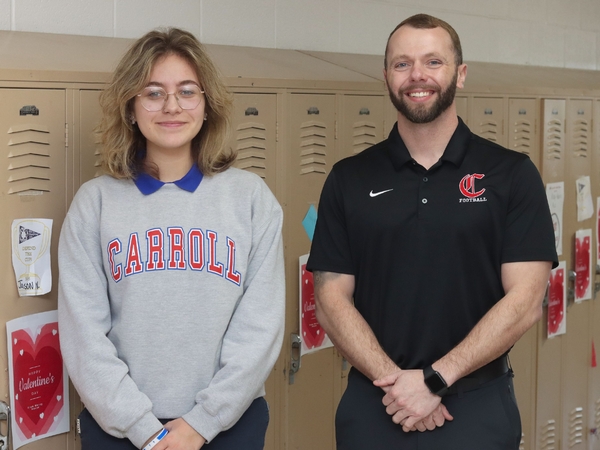 Sophia Sassenberg '26, Gonzaga House, with Mr. Cody Byrd
The Archbishop Carroll Profile of a Patriot states, "A Patriot knows curiosity and enthusiasm can only enlarge the scope of the mind." Sophia Sassenberg brings the best of these qualities into every classroom she enters. Sophia is kind and respectful and has shown a fun and inquisitive approach to education during her freshman year. Sophia came to Carroll as a stand-out performer in the band, and through her curiosity and enthusiasm, she has elevated herself as a true stand-out Patriot.

-My. Cody Byrd
What activities do you participate in?
I do Marching Band, Communications for Freshman Class Council, Spanish Club, Pep Band, and Balloon Club.
What's your favorite part of being a student at Carroll?
My favorite part of being a student at Carroll is the experience. I am able to meet new people all the time, I have made great friends, and enjoy all of my classes. I have learned so much already, and I am so glad I have the opportunity to attend Carroll for my high school experience.
What should school "do" for you?
I believe that school should prepare me for my future and further education. So far, I believe that Carroll is doing exactly that.
What's a lesson you learned when you overcame a difficult obstacle?
An obstacle I overcame was my fear of social interactions. Before sixth grade, I was one of the quietest, most reserved kids you would ever meet. I was scared of making mistakes or being made fun of, so I just stayed quiet. Then in sixth grade, I became friends with the people that made me who I am now. Making new friends brought me out of my shell, and I am so thankful for all of the people who have come to know and love me, especially the people who knew me before I became who I am. This experience taught me that you shouldn't worry about what other people think of you, you just need to find the right group of people who love and support you no matter what.
What's your biggest dream in life?
To lead a successful life.
How do you like spending your free time?
In my free time, I play the clarinet, hang out with my sister, listen to music, watch Netflix, pet my cat, Angler, and learn new instruments.