Voices Ringing
Gabriella Kimbrough '24, Student of the Week May 8, 2023
May 08, 2023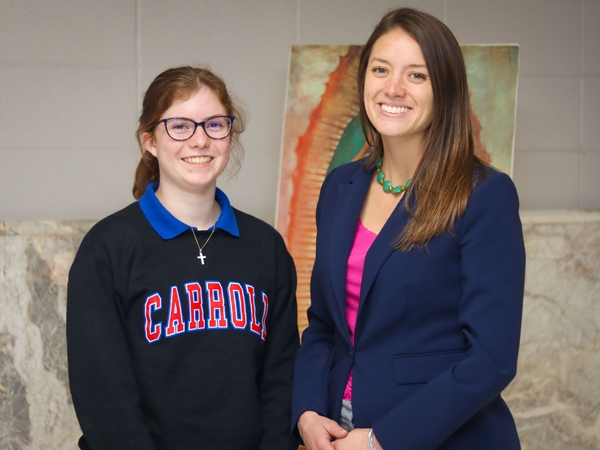 Gabriella Kimbrough '24, Trinity House, with Mrs. Tara Ashworth
Gabriella transferred into Carroll during school year and is a rockstar at Spanish. She offers to help all of the time, takes time to come in early, and stays late just to help others. Her middle name might be "service" and we just don't know it.

-Mrs. Tara Ashworth
What's your favorite part of being a student at Carroll?
My favorite part about Carroll is the community. I transferred in the middle of the school year and was worried about making friends and meeting people, but that has been the easiest part of the transition. Everyone is incredibly welcoming and helpful in making it a smooth transition. One of the first weeks I was at Carroll, there was a basketball game where Moses came and "parted the water" so everyone wore different colors and we acted it out at half-time. I remember thinking it was so neat that we all coordinated that. Also at that game, I had shown up alone and was nervous I would just be standing alone in the bleachers, but I ended up leaving after to get food with a group of people.
What should school "do" for you?
Something a school should do that Carroll does an amazing job at is providing students the opportunity to connect with one another and find their passions with their peers.
What's a lesson you learned when you overcame a difficult obstacle?
A cliché lesson I have learned from obstacles is that there is always light at the end of the tunnel. Things might be really difficult, but there can be joy in every day if you look for it or make it.
What's your biggest dream in life?
I have a bunch of goals, but I want to be able to spend time with my family, hopefully traveling together. I want to go to college and major in biomedical science for pre-med. I am currently interested in orthopedic surgery and emergency medicine.
How do you enjoy spending your free time?
I play lacrosse and run cross country and track. I love spending time with friends and family. My little sister and I are really close, and one morning of the week we go to Starbucks before school to hangout. Most of the time we spend there is just us laughing about the most random things.