Voices Ringing
Carroll High School Blog
Posts Tagged "Mark Beckwith"
October 18, 2019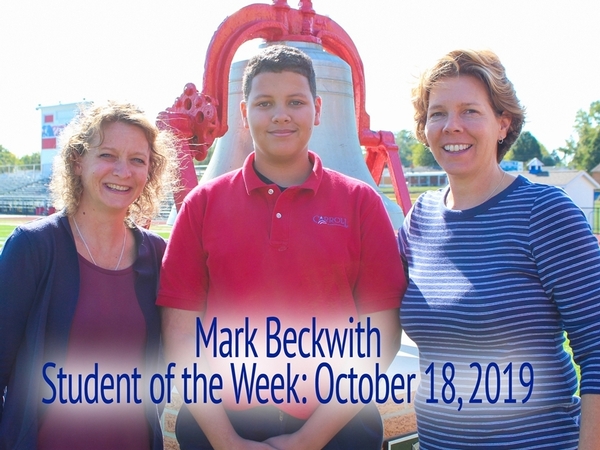 Mark Beckwith '22 with Mrs. Nicole Wilmer and Mrs. Martha Saurine
Mark Beckwith '22, Trinity House
What activities do you participate in?
Baking Club, Balloon Club, Spanish Club, French Club, and Gaming Club

What is your favorite part of being a student at Carroll?
The opportunity to be here every day.

What should school "do" for you?
School should prepare me for college and life as an adult.

What's a lesson you learned when you overcame a difficult obstacle?
The more effort you put into something, the more you receive from your hard work.

What's your biggest dream in life?
To become an astronomer.

How do you like spending your free time?
Go out with friends, play video games, and draw.
"Mark is always smiling, always saying hello to everyone in the halls, and has a high five for anyone. Many teachers have no idea who he is, just that he is kind to everyone all the time. He came in freshman year very shy but has blossomed into an extremely well-liked kid. The most important part, he brightens everyone's day, whether he knows you or not." - Mrs. Nicole Wilmer
"Although I have never had Mark for class, I know him from his friendliness in the hallways, always offering a beautiful smile and a greeting. His openness, kindness, and friendliness is shown not just to faculty and staff but to his fellow students. Mark is a great example of what it means to be a Carroll Patriot!" - Mrs. Martha Saurine
Recent Posts
Archives