The Patriot Promise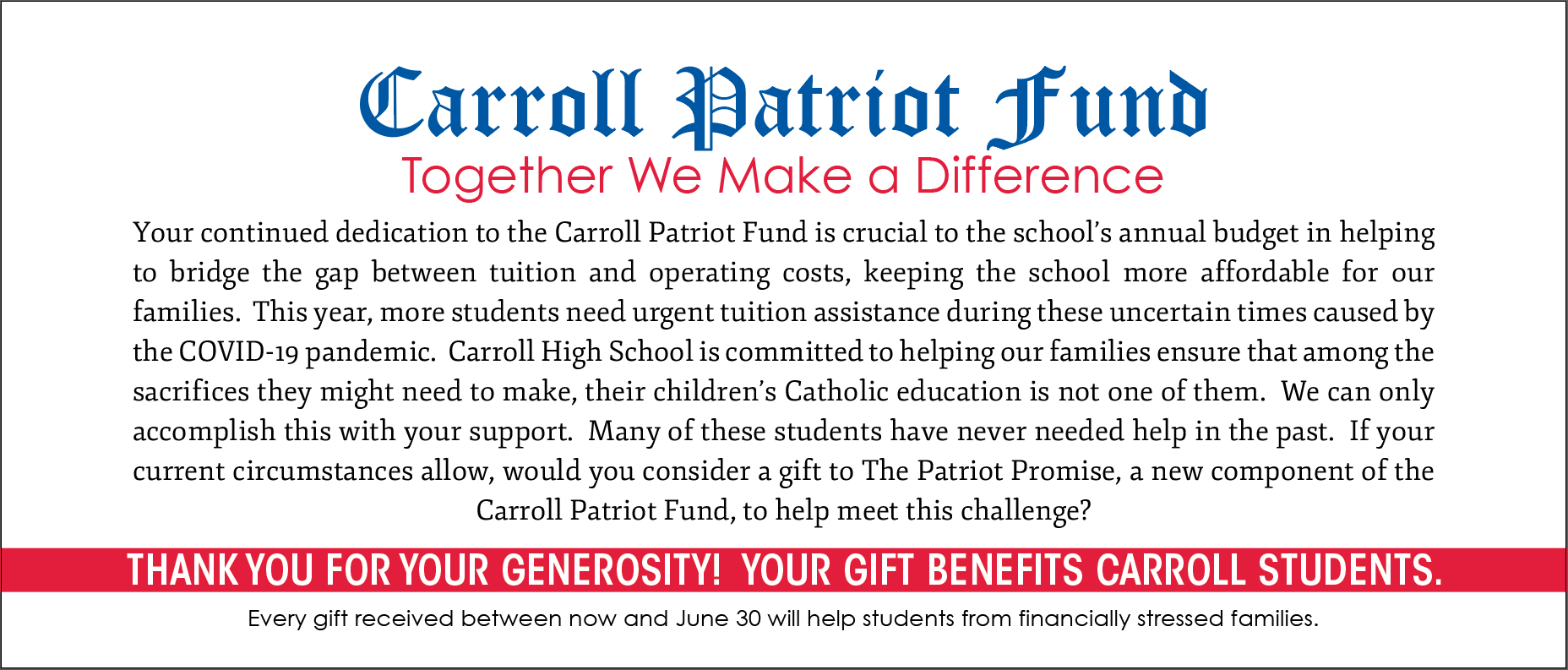 Thank you for your dedication to the Carroll Patriot Fund that helps keep tuition costs more affordable, making it possible for students to attend Carroll High School, making a difference in their lives and in the community.
Carroll has been a true beacon in the storm during these unprecedented times, and our school's commitment to students has never been more evident. As the world around us shut down, Carroll rose up and kept us the engaged, connected, and loved family we had always been. Carroll kept its promise to us and kept our promise growing as we face the future. Weathering this storm, more families need tuition assistance with parents out of work, and more help is needed with technology and equipment necessities. Carroll has responded to this challenge by establishing The Patriot Promise as a component of the Carroll Patriot Fund to actively meet these needs.

"I am a Carroll legacy 2020 graduate: the daughter of 1990 graduates, Adrian and Cathi (Marshall) Sargent. The COVID-19 pandemic revealed how supportive my Carroll family is and how powerful their acts of kindness are in shaping the community. My amazing teachers proved they were capable and willing to adapt to change and went above and beyond the call of duty to provide each and every student with the best opportunity to learn. They taught me what it means to be a leader and how to adapt to any situation. I am ready for college and it is all thanks to the way Carroll prepared me." ~Brittney Sargent '20
"I, too, am a Carroll legacy 2020 graduate: the son of 1986 Carroll graduate, Paula (Hodapp) Smith, and Mike

Smith. During this time of great uncertainty, I have tried my best to stay cool, calm, and collected by evaluating what is in my control. Accepting that there are many things happening around me that I have no control over has been difficult, but also freeing, and it has taught me to be grateful. I am proud to say that I went to a tremendous school that took decisive action to protect the well-being of the student body in setting up a virtual class system with scheduled online classes. This allowed interaction between people which was huge at this time. Carroll has given me the tools to build a better life. Our teachers not only engaged us mentally, but spiritually and physically, creating the whole, well-rounded person that colleges look for." ~Kenneth "KJ" Smith '20
Please consider a gift today. On behalf of all Carroll students, thank you for making a difference!